So far, the World Cup has been an unbridled joy. There have been more goals per game—3.1—than in any tournament since 1958. And in the brief lulls between goals, there has been a smattering of dodgy refereeing, laughable play-acting and lots of shaving foam on the pitch.
The tournament schedule is fairly unforgiving, and with still over 20 group matches and 16 knock-out games to go, it is useful to have a look at which one of them may be worth watching.
Among the 32 finalists in this year's tournament, these are the teams with the highest and lowest goals-per-game ratios in World Cup history: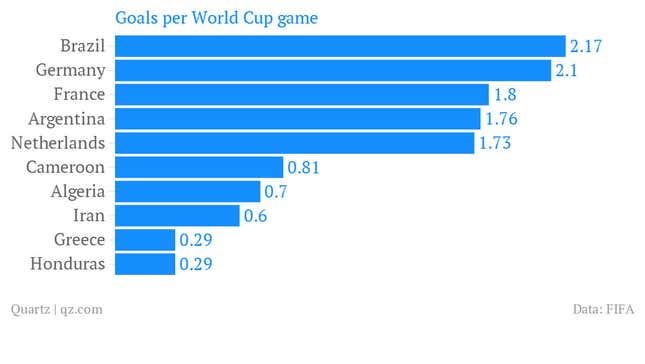 Admittedly, sample size is an awkward factor in this analysis. Goal-shy Greece and Honduras have played only 14 matches between them, and so can be said to be still finding their feet at World Cup level. Indeed, experience appears to count in hitting the back of the net. The two highest average scorers, Brazil and Germany, are among the World Cup's most regular participants. The true outlier when goals are mapped onto appearances is the Ivory Coast, which scores as frequently as Italy (1.6 goals per game), despite Italy having played 74 more World Cup games.
By adding the average number of goals scored per team together, here is the list of the games expected to produce the highest number of goals (and one that won't):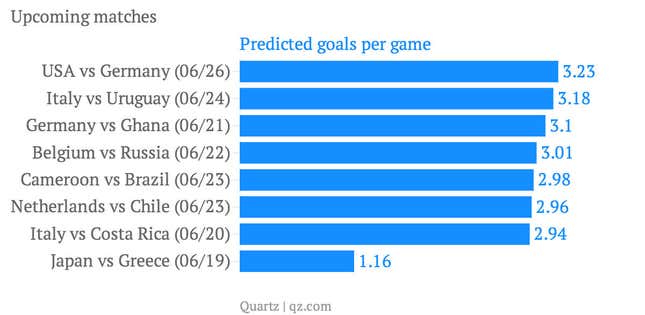 Raising the hopes of defenders and goalkeepers everywhere is the fact that the Brazil vs Mexico game, which was expected to produce at least three goals, ended 0-0 on Tuesday. Demonstrating the fallibility of relying on past performance as an indicator of future trends was the Mexican goalkeeper, Guillermo Ochoa, whose save from Neymar has been touted as one of the best in football history.
Here's to you, Mr Ochoa, for defying the odds and creating some World Cup magic.