"We see the upsides where others see the downsides."
Tamaz Georgadze is staunchly pro-European. He would be, since the business he started last year, SavingGlobal, wouldn't be possible without the EU. Despite the rising tide of anti-EU sentiment across the continent, including in Georgadze's home base in Germany, the Berlin-based entrepreneur reckons that he can show people the value of the EU's rules.
How? By boosting their bank balances.
The EU is built on the principle of a single market for goods, services, and labor among member states. Still, some sectors are more integrated across borders than others. Banking has traditionally been one of the industries run mostly along national lines, at least for retail clients. But if someone in California can easily open a savings account with a bank based in New York, why can't a German do the same with a bank based in Bulgaria?
Finally, an easy way to open a Bulgarian bank account
Despite sharing the same currency, central bank, and financial regulations, Germans are lucky to get 1% annual interest on a one-year fixed term euro account, around half the typical rate offered to Portuguese savers. Rates in countries like Bulgaria that are outside of the euro zone, but within the EU, offer even juicier returns. Even the same banking groups offer customers markedly different rates depending on the country they're in, something lenders couldn't get away with if the EU worked more like a true United States of Europe.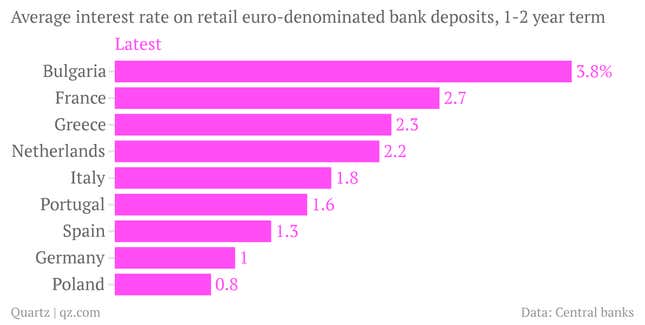 SavingGlobal aims to inject long-overdue cross-border competition to Europe's retail banking industry. So far it has signed deals with Fibank in Bulgaria and Banco Espírito Santo in Portugal so that they can sign up customers remotely. German savers can open an account online with WeltSparen, as SavingGlobal is known there, and park their euros in a Bulgarian or Portuguese bank as easily as they can with a domestic provider.
Since the EU requires countries to guarantee deposits up to €100,000 ($134,000)—the maximum SavingGlobal allows customers to place with a single bank—these accounts are all equally protected by the same rules if a bank goes bust. For someone putting the maximum amount into an account, difference between the typical interest on a one-year deposit in Germany and the equivalent offers from SavingGlobal's partners in Portugal and Bulgaria amounts to €1,500 and €2,000 per year, respectively.
"It's an arbitrage game," Georgadze tells Quartz. "That gets the customers hooked."
It's also pretty obvious. "Why didn't others think of this? I can't tell you," Georgadze says. "The reality is that banks are slow and conservative."
Georgadze was once a consultant at McKinsey who specialized in helping retail banks devise savings and investment strategies. Knowing the tricks of the trade, he is keen for SavingGlobal to appeal to savers beyond simply the interest rates on offer. His new company is also importing customer-friendly practices common outside of Germany to savers in the country, including penalty-free early withdrawals from fixed-term deposits and no automatic rollover to "radically reduced rates after a term expires," Georgadze says.
From Stuttgart to Sofia, a market for deposits
SavingGlobal's business relies on the cheap intra-EU money transfers, harmonized anti-money laundering rules, deposit insurance schemes, and other aspects of the burgeoning European banking union that have been steadily taking shape. Ten years ago it was incredibly difficult, and expensive, for the ordinary individual saver in one EU country to open and maintain a savings account in another country, Georgadze says.
It can still be pretty cumbersome. If Germans contacted a Bulgarian or Portuguese bank directly, they would probably either need to visit one of their branches in person or prove that they had a local address in the country, or both. And if they managed to open an account, they probably wouldn't be able to access information about their funds in their native language.
SavingGlobal takes care of the behind-the-scenes legwork to tick all the boxes required by bankers and regulators. It is in the process of signing up more partner banks, including in Italy, Poland, and the UK. Georgadze aims to open up the platform to savers across Europe next year. He won't divulge volumes but says that the company already has "several thousand" customers in Germany.
The start-up makes money from charging banks a commission based on the deposits it routes their way. In addition to the protection that comes from capping deposits at the limit of state guarantees, Georgadze says that his firm won't work with bailed-out banks (which rules out a fair few potential partners these days). Since it takes two to three years for a customer to become profitable to the company, the founder says, it's in his interest to keep savers happy and comfortable with SavingGlobal's newfangled way to save. This means expanding somewhat slower than he would like, but that is the nature of financial services. "The model is complex, and we need a lot of time to test and on-board every bank," Georgadze says.
Savers of Europe, unite!
This is what a true European banking union looks like, with companies competing for customers on price and service in something that resembles a coherent economic bloc. In theory, greater cross-border competition would distribute deposits more evenly across the EU, not least diverting the savings of well-off Germans earning pitiful yields at home to banks in places where the locals are less flush and interest rates are higher. This would lower the funding costs of lenders in hard-hit markets—like, for example, Portugal—which could then be passed on to borrowers.
If it's true that people often vote with their pocketbooks, services like SavingGlobal may even help to turn the tables against the anti-EU brigade, a few extra euros in interest at a time. "This is one of the examples where you see the advantage of the EU," Georgadze says. "It integrates markets and offers people more opportunities than before."