It's easy to see why retail brands and the media outlets that cover them love fashion collaborations. These symbiotic licensing deals—whereby two companies overlap expertise, branding imagery, and audiences—provide flash-in-the-pan excitement, around-the-block lines, increased brand recognition, and the opportunity to sell products to people who may not have bought them otherwise.
The model, which often boils down to something like "your iconic prints on our bedsheets," has worked well for duos such as Missoni and Target, Karl Lagerfeld and H&M, and Cynthia Rowley and, well, whomever. (I do enjoy those sequin-spotted Band-Aids.)
But so far, fashion collaborations have failed to deliver for wearable technology. That's because the medium—unlike Target towels or H&M dresses—calls for more than just high-end branding delivered on the cheap. Making technology truly wearable is not just a matter of dressing up a device. It will require vigorous innovation that wholly integrates form with function.
Design is not just a layer
A reputable name—on either the fashion or technology side—won't guarantee success, as Marie Claire creative director and tech enthusiast Nina Garcia noted on Monday night, when she served as a spokeswoman for a new smartwatch from the Paris-based consumer electronics company Withings.
"Some [tech companies] have tried to move closer into the fashion camp by borrowing the credibility of high-end and established designers through partnerships and special editions of their products," she said. "The true marriage of fashion and technology is not just going to come from the established fashion houses and tech giants, but through the creativity of innovators and a new brand of designers."
It sounded a little like a dig at Google—from a very visible Glass ambassador—the very week that Diane von Furstenberg's designs for glass became available on Net-a-Porter. Despite the fashion merchandising dream team behind those DVF frames, they still look awkwardly like what we may have imagined "smart glasses" would look like decades ago.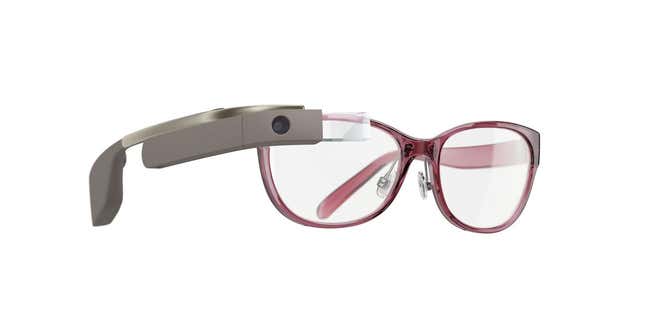 Also on Monday, Fendi sent leather-sheathed, F-embossed Beats by Dre headphones down the runway at its spring 2015 menswear show. That lipstick red pebbled leather looks luxe, to be sure; as did the gold-accented Alexander Wang version before them. (The furry ones by Oscar de la Renta were a stretch.)
But like designer-branded USB bracelets, they're just technology dressed up with fashion. There's nothing wrong with that, but it's not the same as clean, integrated, functional design—which is what we should expect from Beats in the future, now that the company is under Apple's umbrella.
Which brings us, of course, to the wearable technology everyone is waiting for: Apple's iWatch. Although the company has an admirable design history, it's still hard to imagine a stylish dresser visibly wearing an Apple accessory on her body every day. But having former Burberry CEO Angela Ahrendts on their team won't hurt. (And this mock-up actually isn't horrible.)
What Withings (the little-known creator of the aforementioned smartwatch) got right—and Apple knows—is that when it comes to creating truly wearable technology, the form and function will have to be seamlessly integrated. Sure, the iWatch may have changeable designer watchbands, but like fancy iPhone covers and iPad cases, they'll just be dressing on the device. The device itself must be designed to be desirable.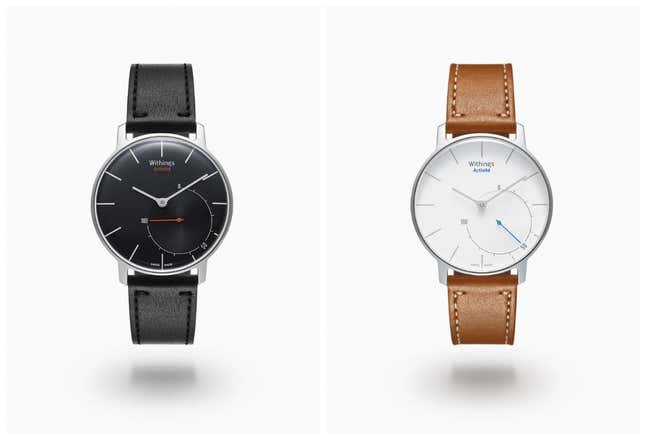 What's great about that Withings watch—in addition to its clean, analog-style face—is that rather than relying on outside fashion designers to pull it off and license their branding, the company invested in their own product team, sending them to do product research at Baselworld, the international watch show in Switzerland. (There, they went undercover as fashion bloggers.) Those cross-pollinating creators are likely to be the ones who will make useful, desirable, beautiful accessories—rather than co-branded kitschy gadgets with little staying power. (And it's exciting to see this sort of innovation come from somewhere other than Apple.)
That's not to say collaborations between established brands in fashion and wearable technology are hopeless. Intel has paired up with Carol Lim and Humberto Leon, the team behind the beloved New York-based brand and concept store Opening Ceremony, to create a "smart bracelet" to be sold at Barneys this holiday season. Among fashion's foremost facilitators, Lim and Leon (also the creative directors of the high-end fashion label Kenzo) have a successful history of colorful, creative, and entrepreneurial partnership. If anyone can write the formula for a new kind of fashion collaboration, it may well be them.