The running joke of wearable technology is how pitifully unwearable it is. Even Diane von Furstenberg's Midas touch couldn't make Google Glass look cool.
But last night, when Éric Careel, founder of Paris-based Withings, pulled up his navy jacket to reveal a clean, white-faced silver watch with a thickly-stitched saddle leather band, it didn't look like a gadget. It just looked wearable.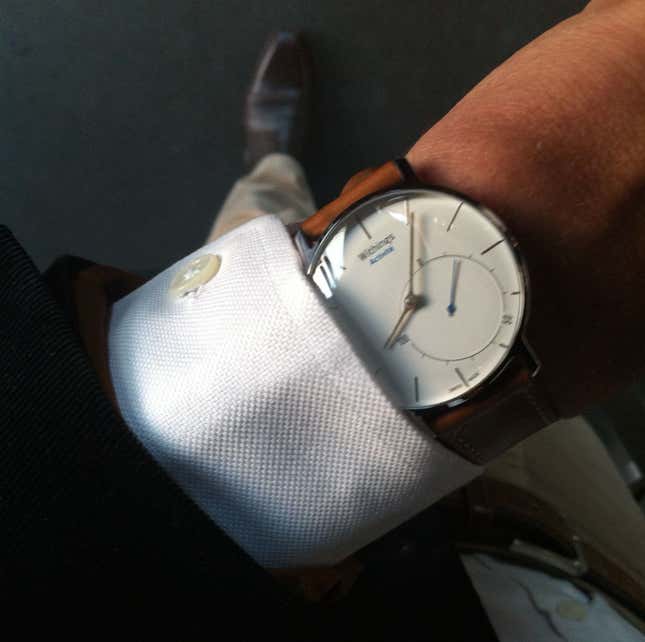 Although the watch—designed in Paris and made in Switzerland—resembles its analog ancestors, it contains all the technology of a fitness tracker. It monitors distance covered (walking, running, or swimming), calories burned, and quantity and quality of sleep, all of which will sync with Withing's existing Health Mate app. The watch, called Activité, can also tell time. It will automatically adjust to changing time zones, and its battery will last a year.
The watch will be available for $390 this autumn, in two unisex color options.
"We do not want to create a new gadget with electronics that you have to recharge every three days," Careel told Quartz. "We want to create something that you will be happy to wear a long time, not only two months, three months, but a very long time." The watch's distinguishing quality—and the reason a person might actually wear it for a long time—is that it doesn't actually look smart, at least not in the 21st century sense.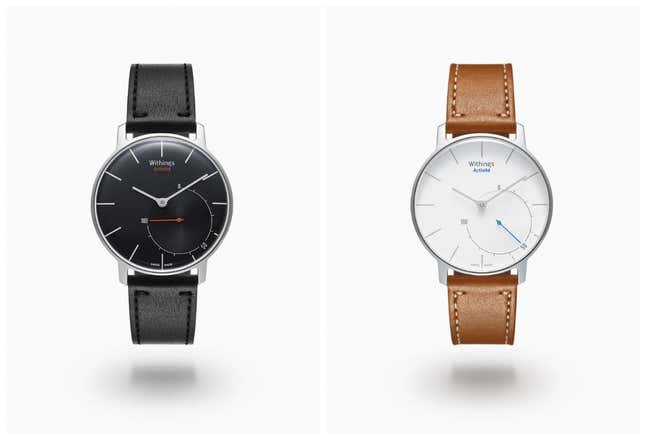 A cadre of young Parisians at the launch event offered clues to how Withings succeeded where many technology companies have failed. They wore little black dresses and suede sandals, navy blazers, and soft brown loafers sans socks. They were Withings product development team, and on a terrace overlooking the Manhattan skyline, they seemed reasonably chic.
"They wanted someone to be a bit more fashionable and girly," said Marie Loubiere, who was hired to oversee the watch's development. "Instead of starting with the technology, we started with the design. We went to Baselworld, the world event for watches, and we were pretending to be fashion bloggers—going into the press conferences, meeting with people, and asking questions about watches and how they make them, and what are the trends. We needed to learn everything about the watch industry."
In the end, they made a watch that wouldn't look terribly out of place at Baselworld. The calfskin band, sourced from Hermes supplier Tannerie Haas, certainly doesn't hurt.
Integrating—and prioritizing—the aesthetics was a wise tactic, and one that Marie Claire creative director Nina Garcia nodded to in a short presentation at the event. "Some have tried to move closer into the fashion camp by borrowing the credibility of high-end and established designers through partnerships and special editions of their products," she said. "This is welcome, but I think the true marriage of fashion and technology is not just going to come from the established fashion houses and tech giants, but through the creativity of innovators and a new brand of designers."
That may have been a dig at Google, from one of fashion's most visible Glass ambassadors, but she has a point. On Garcia's petite wrist, with a form-fitting Cedric Charlier dress and Gianvito Rossi sandals, the watch just looked like another desirable accessory.