So, it turns out the US economy's first-quarter weakness was much worse than first thought.
The revised numbers, published today, showed economic activity, as measured by the gross domestic product, declined at a whopping 2.9% annual clip during the first three months of 2014. That was even worse than the 1% annualized decline, largely driven by bad weather, that was previously reported.
So here's how the US track record on economic growth now looks over the last few years.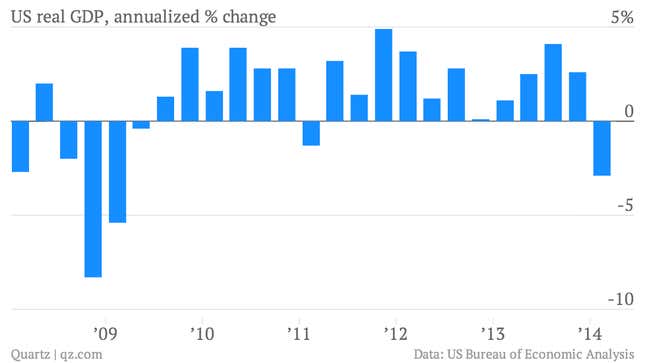 Now, we all know that the US winter was pretty brutal. But why such a sharp revision?
Basically, consumption was much weaker than it first appeared. Personal consumption growth was revised down to just 1% in the just-released numbers, from 3.1% previously.
Why? The US Bureau of Economic Analysis had assumed that the rollout of the Affordable Care Act—known colloquially as Obamacare—would prompt a big boost in usage of medical services, and they baked that assumption into the previous GDP estimates. But recently released quarterly survey data showed that those estimates were too optimistic. (The previous BEA estimate pegged consumption of medical care growth at 9.1%. Today's number put it at -1.4%.) Here's what consumer spending on healthcare services actually looked like in the first quarter.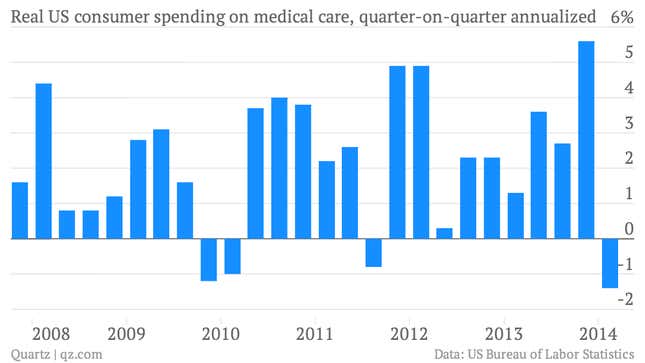 So what does this mean? Well, we just don't know.
"Revisions of this magnitude, especially in the final revision, are quite rare," wrote economists at the investment bank Jefferies Group. "In this instance, we suspect that there were significant inconsistencies in the process of measuring and estimating the response to the launch of the ACA healthcare exchanges and perhaps some reporting problems at the state level."
We'll have to wait until the Census Bureau's next services survey report in September to see whether medical care usage actually does pick up. That would stand to reason. Government estimates of increased healthcare spending were "probably more early than wrong," wrote Morgan Stanley economic analysts in research notes. "Coverage has, in fact, expanded significantly this year, and that should support higher healthcare spending."
But still, there remains significant uncertainty about how the Affordable Care Act, a vast effort to restructure an industry that was worth roughly 17% of GDP back in 2012, will play out in the real economy.