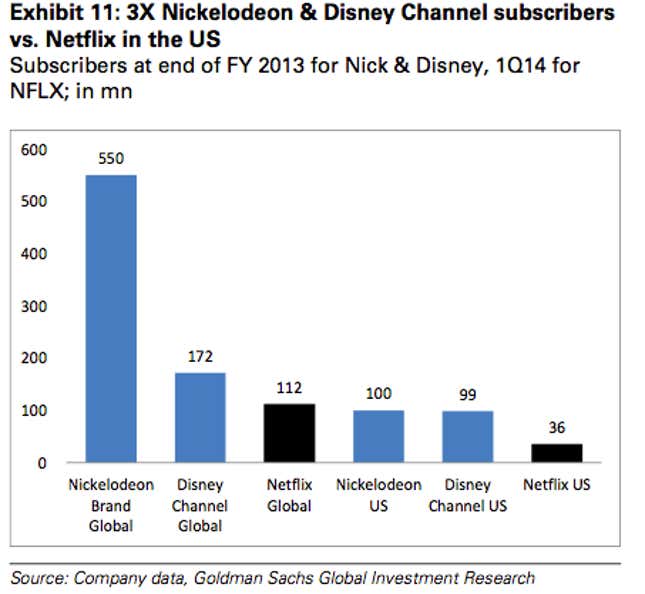 Netflix's irrepressible stock price has hit another record high.
Shares in the video-streaming company are up by about 6% today after an upgrade by analysts at Goldman Sachs. The investment bank thinks that the company has an opportunity to seize control of  a huge and relatively untapped market: streaming television for young children.
Here's why: As the top chart shows, audiences for video content targeted at children are absolutely enormous. And kids these days are different. Most (75% of those aged between 0 and 8) have access to a mobile device, and they are spending more time on it and less time on other screens, (time spent watching linear television and playing video games, for example, have both declined in recent years, according to the analysis).
Netflix has tied up rights to some of the most attractive children's content out there, striking a deal with Disney that's estimated to be worth $300 million for access to the iconic studio's classic movies, as well as exclusive rights to its new movies from 2016 onwards. A lot of the attention Netflix has gotten lately has focused on its push into original content for adults, and the company is hoping to do the same for kids, working with DreamWorks and Mattel on original animated shows for youth audiences. Even though Netflix doesn't have access to the children's cable channel Nickelodeon's content, which Amazon secured for its Prime Instant Video service in a big deal with Viacom last year, Goldman thinks that Netflix could emerge the winner in streaming TV for kids because of its wider selection, easy-to-use platform and its investments in original shows.
That said, the real reason that tapping into the kids market could be a boon for Netflix is because it could finally help the company charge more for its product. Despite its astronomical valuation, Netflix is still generating relatively meagre profits, due to onerous content costs. The company bowed to the inevitable earlier this year and hiked prices for new users (a hike for existing users will be grandfathered in over the next two years). But growing adoption by kids could prompt families to opt for its higher priced, $12-a-month plans, which allow for simultaneous streaming on up to four devices (compared to just two for the cheaper, standard option).
That could help the company grow its stagnant ARPU (average revenue per user) and ultimately, boost its bottom line.