A few blocks from where thousands of Hong Kong residents were staging an overnight sit-in last night to protest Beijing's hold over the city, a passerby had scrawled a message in the film of condensation on a department store window: "Protect Hong Kong." Within a few hours the message, and the protesters, had disappeared. By mid-morning, business in Hong Kong's commercial district where the students had occupied was back to normal.
On the July 1 anniversary of Hong Kong's handover to China, tens of thousands of students and other residents of the semi-autonomous region joined the city's largest demonstration in a decade, demanding the right to directly elect a leader. The protests were widely followed by international media, and Hong Kong's dissatisfaction is well-known outside the city, but observers fear they will do little to prod Beijing to allow truly open and direct elections, and could prompt a harsh crackdown by Chinese authorities.
Organizers estimate that some 500,000 people marched from Hong Kong's Victoria Park in the mid-afternoon to the city's commercial district, where students listened to lectures, cheering and singing until police began clearing them away at around 3am. Over 500 were arrested. (Police say only 98,600 showed up for the demonstration while Hong Kong University estimates there were between 154,000 and 172,000 people.)
Allowing Hong Kongers the right to nominate candidates for election—currently, a committee vetted by Beijing chooses the candidates—is unpalatable for Beijing. The process would open up the possibility that Hong Kong could elect a chief executive opposed to Beijing, leaving the city in direct conflict with the central government and setting the stage for further conflict. Others say that China's president Xi Jinping has decided Beijing has been too lenient with Hong Kong, where media and civil society have been mostly independent, and is working to reverse an image of weakness.
Last night's sit-in is merely a trial run for a larger demonstration later this year. Organizers of a protest group called Occupy Central have vowed to bring Hong Kong's financial district to a standstill if a proposal from authorities—due to be released before the end of this year—doesn't include public nomination.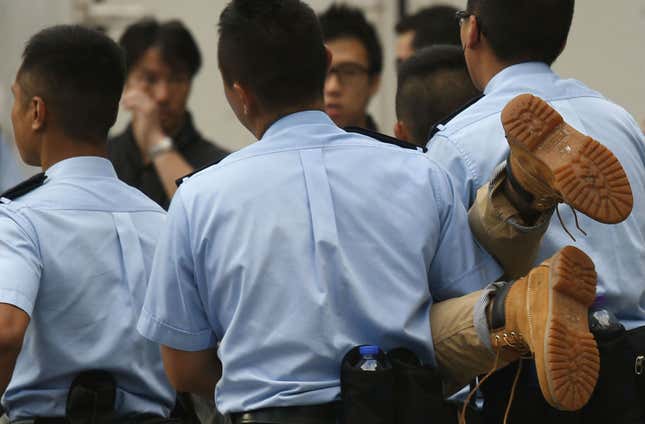 The public nature of the clash has left Beijing with little room to placate Hong Kong without appearing weak. "I think [the protests] might actually predispose Beijing to stick to tough actions," says Willy Lam, who teaches mainland and local politics at the Chinese University of Hong Kong. "Even if the turnout is larger than expected, I don't think [the protests] will change the mind of Hong Kong and Beijing [officials]. It's difficult to foresee any happy ending."
Beijing's representative in Hong Kong, Zhang Xiaoming, has already said the central government's position on universal suffrage in Hong Kong "won't have any change or shake because of the so-called referendum or scale of the march." Hong Kong officials released a statement saying the government "believes it is unlikely such a proposal will be adopted." Local politicians have even suggested that the Hong Kong garrison of the People's Liberation Army could come out to quell protests.
And while large-scale demonstrations in the past have successfully changed Hong Kong policies—in 2003, a rally of over 500,000 residents halted the passing of an anti-subversion law—doubts about the impact now are keeping some citizens away.
In spite of widespread anger, last week Hong Kong's legislature voted to fund a commercial development in the northeast that will displace thousands of villagers and farmers in favor of catering to mainland shoppers. "I feel too disappointed to join the protests anymore," a local photographer who had protested the development wrote in on online forum for Hong Kong media professionals. "We stood there furiously. There was nothing we could change."