Ramadan, the Islamic religious festival marked by a month of fasting, officially started June 28 around the world but has been effectively cancelled for many Muslims in Western China. Government offices, hospitals and schools in China's Xinjiang region, where about half the 22 million population is Muslim, have banned the traditional sunup to sundown fast and other religious activities, according to notifications on local school and government websites.
Students, teachers, civil servants and and Communist Party cadre members—a far-flung group that includes everyone from nurses to engineers to scholars—are forbidden from fasting and other activities. Government-run websites are running prominent messages explaining the ban on fasting, and lauding Muslims who do not fast.
The crackdown on Ramadan comes amid a string of attacks, many linked to ethnic minorities across the Uyghur region, that have killed hundreds across China since last fall but have been concentrated in the Xinjiang region. In response, China's government has sentenced dozens to prison in a mass public trial, and executed 13 people said to be connected to the attacks.
The Tarim River Basin Management Bureau in Xinjiang showed men in traditional caps eating during the daylight in a report (link in Chinese) about a Party Day celebration dated June 30: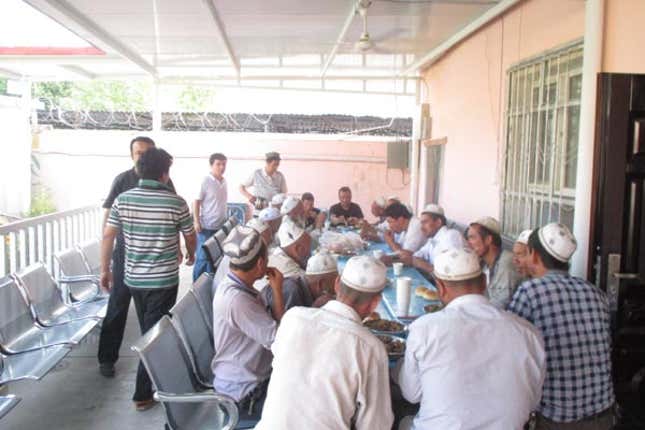 "Although it was Ramadan, the party members and the officials in this area showed their attitudes and expressed their opinions by not fasting, which shows the advance of the Communist Party," and shows they are people who admire science and want to improve society, the agency's website said.
The Chinese Medicine Hospital in Yining asked staff to pledge in writing not to fast in order to "not affect normal work and life" in a post on their Sino Weibo page (link in Chinese). "We remind everyone that they are not permitted to observe a Ramadan fast," Bozhou Radio & Television University said in a statement, according to the AFP. A local weather bureau asked current and retired staff not to fast.
The ban on following traditional religious practices during Ramadan is much more visible, widespread and strict than it has been in recent years. Last year, China's party mouthpiece newspapers ran feel-good articles quoting high school students who said they were permitted to fast, despite reports to the contrary. In 2008, the local government forced Muslim restaurant owners to remain open during the daytime over the holiday, when they would have traditionally shut.
July 5 marks the anniversary of riots in the region that killed nearly 200 people in 2009, and Chinese authorities have also detained hundreds of people to prevent protests and demonstrations, the Uyghur Human Rights Project reports.
Cathy Sizhao Yi contributed reporting.