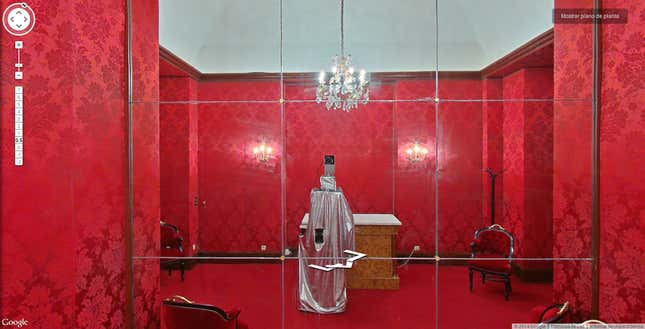 Google's Art Project was launched three years ago as a sort of Street View for museums and art galleries. Using panoramic cameras mounted on trolleys, Google captures the artwork and gilded halls of 250 institutions around the world—all the while trying to stay out of sight.
The curtain slips a bit in the Camera in the Mirror, a new Tumblr project by the Spanish artist Mario Santamaría that collects accidental self-portraits of Google's hulking cameras while they go about their work. It turns out that museums have a lot of mirrors, and the cameras often photograph themselves in front of them.
Sometimes swaddled in silvery capes or attended to by ghostly minders, the android-like devices call to mind the Victorian mothers who would hide underneath blankets to keep their toddlers from squirming during portraits. Collected together, the Google-camera selfies are at turns unsettling, revealing, and absurd—unintentionally upstaging the art they're meant to quietly document.