Domino's Pizza has been eating Pizza Hut's lunch in the US.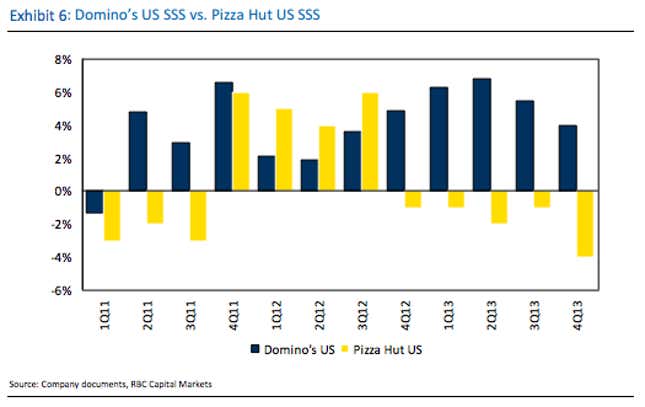 Domino's recent success is partly a result of its digital prowess—that chain has invested heavily in mobile and online platforms that enable customers to order food and track deliveries online easily. In high-rent cities with competitive pizza scenes such as New York, Pizza Hut has also suffered because of its greater focus on dine-in customers, compared with the cheap, open-late, delivery-based model at Domino's.
But after a particularly challenging 2013, things could finally be looking up for the iconic red-roofed pizza chain, according to analysts who follow these things closely. Pizza Hut's saving grace? Chicken.
"[A]fter a year of soft trends, we believe Pizza Hut US… will recover on the back of its national chicken rollout," writes RBC Capital Markets' David Palmer in a note today. In particular, Palmer points to the "WingStreet" Buffalo wings product that Pizza Hut recently released. (For what it's worth, Domino's appears to be making a similar push: its website is promoting its "specialty chicken" products, which use chicken nuggets instead of dough as a base for toppings and cheese.)
Pizza Hut is owned by Yum! Brands, but arguably doesn't get as much attention as the company's other chains—Taco Bell, which has launched an ambitious and slightly bizarre-looking expansion into the US breakfast market, and KFC, which has a huge presence in China (where, speaking of chicken, there have been concerns about the quality of its poultry).
Pizza Hut is also doing OK in China, and it hasn't really expanded into other emerging markets—a potential source of relatively easy growth. With 7,800 Pizza Hut locations in the US, the chain already contributes a sizable chunk of Yum! Brands' profit base. If its chicken prompts a return to growth, that would be a bonus for the company and its shareholders.