It's official. Adidas won the World Cup.
At least in the sense that whoever wins tomorrow's final will be wearing the German sportswear giant's clothing (and for that matter, kicking its balls). Adidas is an official sponsor of FIFA, soccer's world governing body, meaning its balls are used in World Cup matches and its logo adorns sideboards.
It is also the official sponsor of both Germany and Argentina, who will face off in tomorrow's big game. And it's the sponsor of the tournament's top scorer so far, Colombia's James Rodriguez, as well as Germany's Thomas Muller and Argentina's Lionel Messi, the second and fourth top scorers in the World Cup respectively (either of whom could realistically claim the top scorer mantle once the quadrennial centerpiece of the world game is over.)
As we discussed earlier in the tournament, Nike's branding strategy at the World Cup was to sponsor more star players and individual teams than Adidas did (including host nation Brazil). Evidently, Adidas bested that strategy by choosing its teams wisely.
Yet, in the eyes of investors at least, Nike is in better shape, both in the soccer business, and more broadly.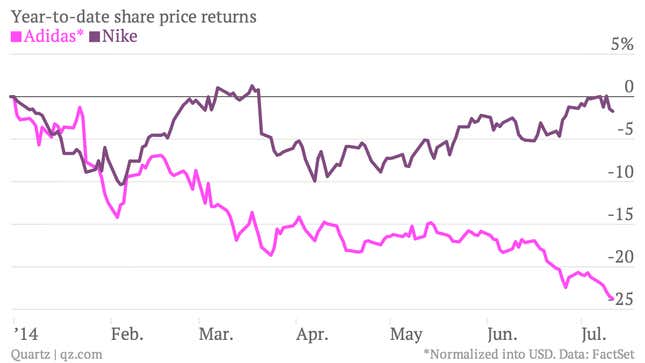 Nike's soccer business has been booming. During its earnings last month the company disclosed that its "global football" division generated $2.3 billion in revenue last year, up 21% from a year earlier, and about double the pace of revenue growth for the broader company.
Adidas has said it expects to generate a record €2 billion ($2.7 billion) in soccer revenue this year. But the fact that Nike is catching up is worrisome. Adidas has been selling soccer products for 66 years, reports Businessweek; Nike only got into the business in 1994. Nike is also well-positioned to tap rising enthusiasm for soccer in the US (which is Adidas's biggest market for soccer products), because it sponsors the US men's national team.
The German apparel giant's stock price has suffered from over-exposure to Russia. And soccer (although admittedly not the World Cup), is providing further headaches for its investors. Adidas shares hit a 16 month low this week, in part because of concerns about its rumored upcoming clothing sponsorship of high-profile English club side Manchester United (the sponsorship carries high upfront marketing costs, Warburg Research analyst Joerg Frey told Reuters.)
Manchester United's previous sponsor, Nike, walked away because the deal wasn't a "good value for Nike's shareholders," according to the New York Times.