Citigroup's surprisingly OK results have provided a Monday morning boost for the entire US financial sector: at the time of writing Citi shares are up about 4%, with JPMorgan Chase up 1.4%, Bank of America up 1.7%,  Goldman Sachs 1.3% higher, and Morgan Stanley up 2%.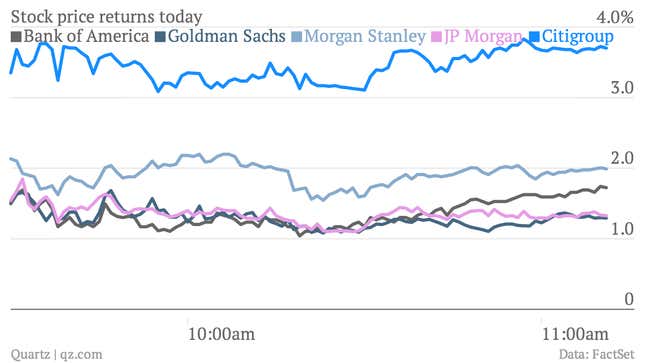 One of the key points from Citigroup's quarterly results today—aside from the headline-grabbing matter of it agreeing to pay the US government $7 billion to settle allegations of mortgage fraud, lower than the $10 billion sum many expected—is the fact that its trading businesses actually did not deteriorate as badly as some people had feared.
Revenue at its biggest securities-trading unit, fixed income markets (mainly bonds and interest-rate products), shrank by 12% to just under $3 billion. As Matt Zeitlin points out, this is a much shallower decline than Citi itself had predicted for the business back in May ("down in the range of 20% to 25% year over year.") Those comments had set off widespread concerns among analysts about the performance of the big Wall Street banks' securities-trading operations. Despite a desire among regulators to see banks return to old-fashioned lending, those trading operations remain a hugely lucrative activity.
Revenue at Citi's much smaller equities trading business did slump by 26% from a year ago. But the company said on its conference call that this was primarily driven by the fact that it had moved to hedge itself against risks stemming from the Ukraine crisis that didn't arrive. That sounds a lot more prudent than, say, losses from trading mishaps.
Citi is still embroiled in a few scandals (for example, its Mexican business, Banamex has also been accused of engaging in fraud.) But its result today seems to be providing Wall Street with a glimmer of hope that maybe, just maybe, this quarter's bank earnings will be less terrible than people fear.