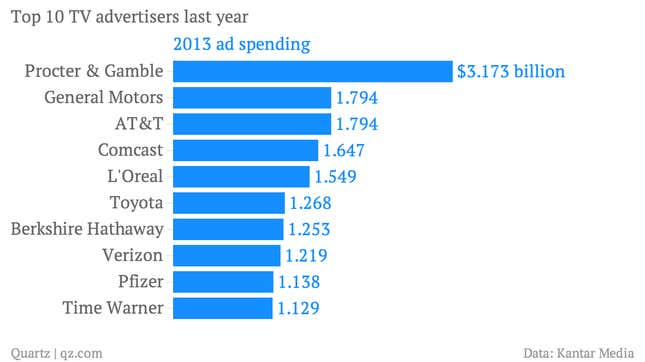 Consumer goods behemoth Procter & Gamble spent almost twice as much on TV advertising last year as the next closest company, according to data released by Kantar Media, with $3.173 in commercials for mega-brands including Pantene, Tide, Crest, and Downy. P&G also owns Old Spice, which is responsible for one of the most popular TV ads of all time.
Automaker General Motors and mobile carrier AT&T were in a virtual tie for second.
Also notable is the appearance of four different communications companies on the list — though that may soon be only three if Comcast finalizes its purchase of Time Warner Cable. A combined Comcast/Time Warner Cable company would place second in TV advertising behind Procter & Gamble. Other industries such as cosmetics (L'Oreal), insurance (Berkshire Hathaway), and pharmaceuticals (Pfizer) were also represented.
Most companies increased their Q1 TV ad spending in 2014, no doubt due to the Winter Olympics.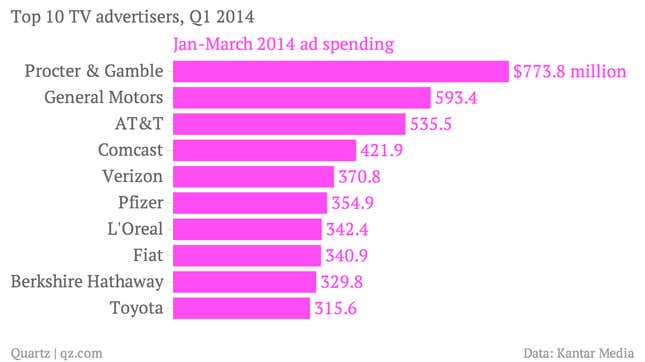 After dropping 13% from Q4 2012 to Q4 2013, Verizon spent 25% more on TV ads in Q1 2014 than it did in Q1 2013. L'Oreal was the only company in the top 10 of 2013 to see a significant decrease in ad spending in Q1 2014, spending 15% less than they did over the same period last year.
New on the scene is Italian auto company Fiat, which ramped up its advertising earlier this year. Reviews for some of its most recent ads have been mixed at best.