The numbers: Not terrible. Goldman reported a profit of roughly $2 billion in the second quarter, compared with $1.9 billion during the same quarter last year. The results beat most analysts' estimates, which have been trending decidedly weaker given that Goldman's bread-and-butter trading operations have been less than stellar. Revenues were up 6% at $9.1 billion, compared with $8.6 billion in the same period last year, which indicates that the prominent investment bank is managing to drive revenues in other businesses, despite its squishy trading.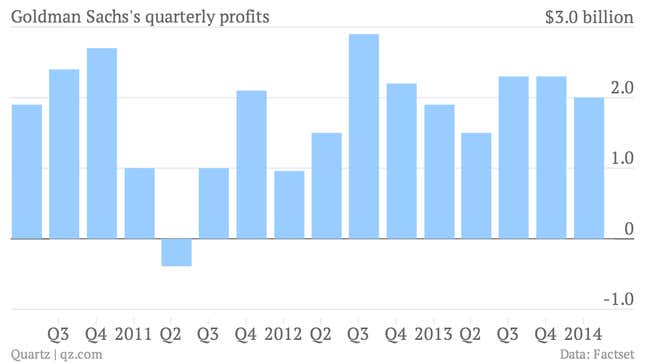 The takeaway: Similar to its banking peers Citigroup and JPMorgan, Goldman saw a drop in trading revenues, particularly in fixed-income trading. Specifically, Goldman's fixed income, currency, and commodities sector was down 10%. But it could have been worse.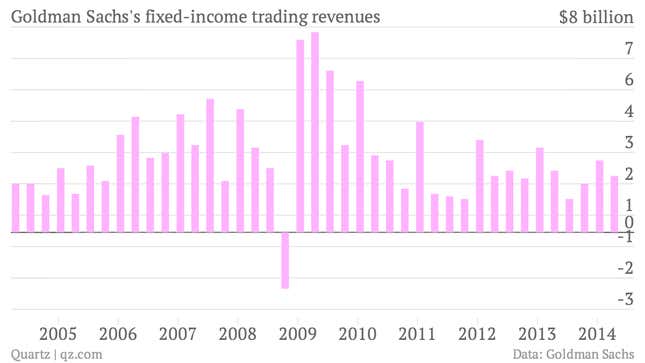 What's interesting: Goldman's private-equity-style business, where it invest in stocks and companies, has emerged as a big moneymaker for the firm, at least this quarter. Known as investing and lending, the firm's I&L business was up a whopping 46%, registering $2 billion in revenues compared with $1.4 billion last year. It looks like I&L and investment banking–largely the business associated with advising companies on mergers and acquisitions and initial public offerings–have buoyed Goldman. Investment banking revenues were up 15% at $1.78 billion, compared to the second quarter last year, continuing a trend from last quarter. Hard to say if this is a long-term trend, but it may have to be if trading continues to languish.