It wasn't as bad as some expected.
In a quarter when most banks (except for Morgan Stanley) have had some truly terrible results, Goldman Sachs beat analyst expectations for its first-quarter earnings, although its overall profit in the first quarter was down 11% to $1.95 billion. Still, as for most of Goldman's peers, the trading business—considered the bank's strong suit—wasn't so hot, thanks to a slump in client activity that's being felt across much of the industry. Overall revenue was down 8%, to $9.3 billion.
Here's how the bank's performance broke down in some key areas. Take a look at total trading, where revenue of $4.4 billion was down nearly 14% from the same period last year. (Notice that Goldman's first-quarter trading performance has been trending down in recent years):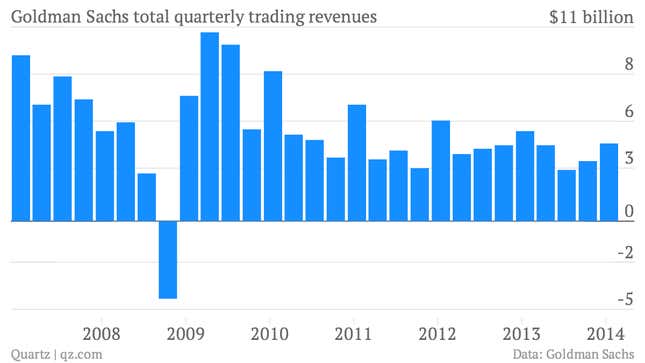 As with other banks, a lot of the trading softness was centered in the fixed-income, currencies and commodities (FICC) trading business. Goldman rang up FICC revenue of $2.8 billion, down 11.4% on last year.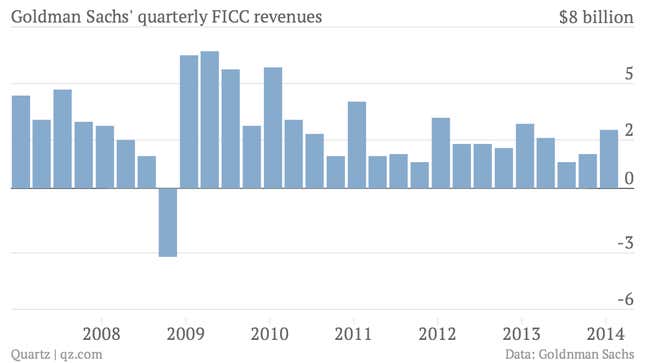 Goldman's investment banking performance, however, was worth touting. The business of advising clients on transactions like mergers and acquisitions and initial public offerings registered first-quarter revenue of $1.8 billion, an 11% increase. That was the best first quarter for Goldman's investment banking arm in recent memory; it's better even than the recent high-water mark of $1.7 billion in the first quarter of 2007.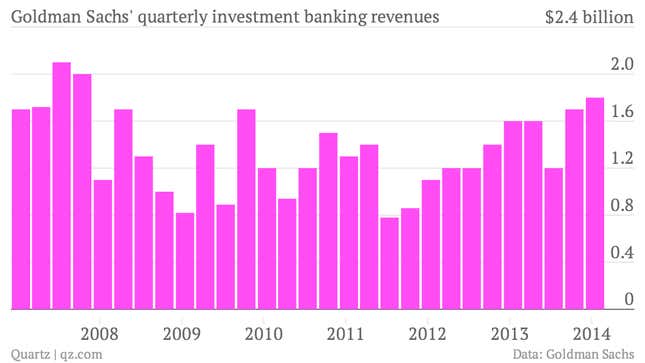 Will the good run in investment banking continue? The bank seemed to give slightly mixed messages on that score. Its earnings release said that "The firm's investment banking transaction backlog decreased compared with the end of 2013," meaning that the pipeline of expected future deals has shrunk. And indeed, on a call to discuss the bank's results with analysts, CFO Harvey Schwartz cautioned against getting too euphoric: "It could all change on a dime." But, he said, "right now the  trajectory on merger activity feels pretty good."