It's pretty much official. The remaining traders at the large banks on Wall Street and around the world had a truly terrible time in the first quarter of 2014. Revenue at fixed income, commodities and currencies (FICC) divisions, where a lot of the trading is done, declined nearly across the board. JPMorgan Chase, which controls the largest chunk of FICC trading, saw one of the steepest falls, with revenue declining 21%. At arch-rival Goldman Sachs, FICC revenue fell by 11%. Everyone had a rough quarter.
Well, almost everyone.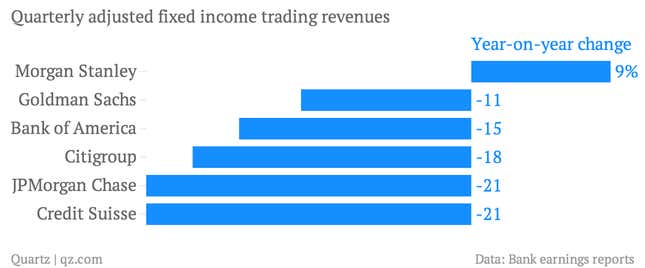 In its earnings report this morning, Morgan Stanley reported that net revenue at the fixed income and commodities trading group rose 9%, to $1.65 billion. How did it manage to buck the trend? "Results reflect strong performance in commodities and solid results in credit and securitized products, despite lower volumes across most fixed income businesses," Morgan Stanley said it its official earnings release.
In other words, Morgan Stanley commodities traders found themselves on the right side of a rip-roaring rally in the commodities market.
Alas, it probably won't last long. Morgan Stanley is in the midst of offloading portions of its commodities trading business. (It's planning to sell its oil-trading unit unit to Russia's Rosneft.) The sales are driven by regulatory changes in the US, which are designed to push banks to cut down on riskier trading. JPMorgan Chase is also in the midst of selling its physical commodities trading business, to Swiss trading house Mercuria.