The numbers: Not great. Yes, JPMorgan Chase beat most analysts' already-depressed estimates by posting a $5.9 billion profit, above the $5.4 billion forecast. But that figure is nearly 8% weaker than its $6.5 billion profit in the second quarter of last year.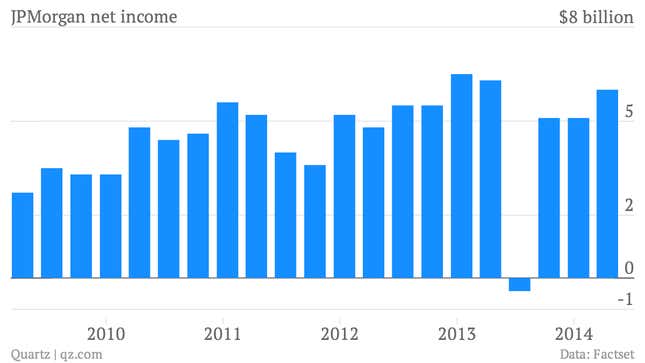 The bank's $24.5 billion in revenue–down 3% compared to $25.2 billion in revenus last year–also sends a signal to the market that it is still grappling with headwinds in its core businesses of lending to consumers and high-octane fixed-income trading. Fixed-income trading had been a key business driver for the banking industry before slumping due to stricter regulations and a skittish market.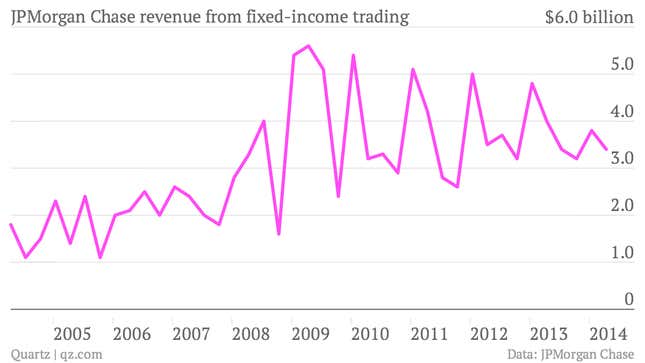 The takeaway: JPMorgan's lackluster results continue the trend in the second-quarter started by Wells Fargo last week, which saw its profits dip to $21.1 billion from $21.4 billion a year ago. Wells Fargo's flagging revenue was driven by weakness in its core mortgage-lending operations. JPMorgan saw similar weakness in home lending with $1.29 billion in fees from mortgages, off nearly 30% in the second quarter compared to last year. Still, JPMorgan CEO Jamie Dimon, who was recently diagnosed with throat cancer, took a sanguine view of the bank and the overall markets outlook: "Despite continued industrywide headwinds in markets and mortgage, the firm has continued to deliver strong underlying performance," he wrote in a press release accompanying the bank's second-quarter results.
What's interesting: Although off by 15% relative to the second quarter last year, fixed-income trading results weren't as bad as JPMorgan officials had the markets fearing when chief financial officer Marianne Lake suggested the bank could see second-quarter revenue from trading down as much as 20%. Dimon even indicated that the otherwise-dour trading environment may be turning a corner:  "Toward the end of the second quarter, we saw encouraging signs across our businesses including an uptick in wholesale utilization, strengthening pipelines in our commercial and business banking segments, and some improvements in markets activity," he noted.