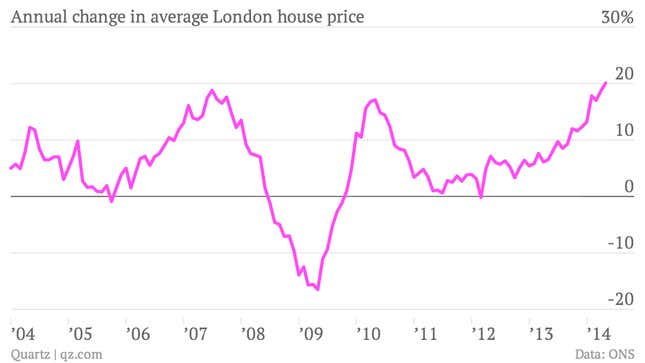 You can buy a lot with £76,000 ($130,000). That's how much the average London home has appreciated over the past year.
The capital's property market continues to defy gravity, with the latest monthly reading from the official statistics agency showing heady 20% growth in the year to May. The rise is "borderline insane," according to one property lender.
The London real estate market has well and truly detached itself from the rest of the country: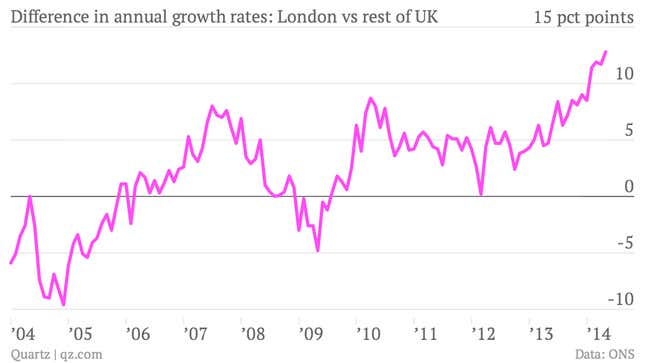 The inter-regional differences in house-price growth are particularly striking: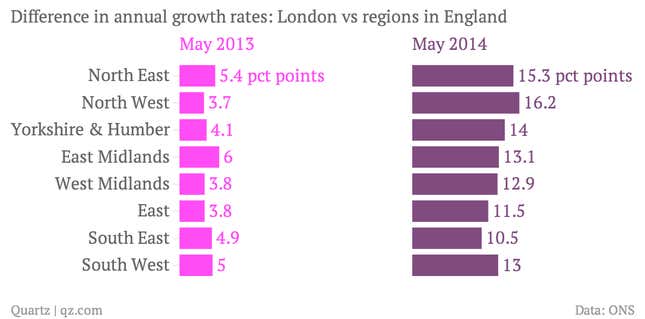 We have previously covered London's shortage of housing and appeal to foreign buyers that have made betting on property in the capital almost a sure thing in the past few years. In the meantime, the eye-popping numbers we once used to illustrate the scale of the boom have only grown more gaudy. It now takes a mere two months, down from six, for the average London home to gain enough value to put a local kid through university.
The Bank of England's latest measures to put a lid on the riskiest mortgage loans aren't yet reflected in the data, and some anecdotal evidence suggests that activity in the hottest corners of the markets is finally cooling down. But something approaching sanity still seems a ways off.