India's milk production continues to grow, to the point where it now tops the milk output of all the European Union countries combined.
Milk production in India was up by a little more than 4% over the past 12 months, according to a recent survey by the country's finance ministry. India has actually been the world's top milk-producing country since 1997, but this is the first time that it has beat out the entire EU. On a country basis, the US produces the second-most milk, and China comes in third. As Quartz's Lily Kuo reported last week, China is also the world's largest importer of dairy, though its per-capita milk consumption is lower than average.
India has 75 million dairy farms, more than anywhere else in the world. The country with the next-highest number of dairy farms is Pakistan, with 14 million. (In both of these countries, the vast majority of dairy farms have fewer than 10 cows, according to the UN Food and Agricultural Organization.)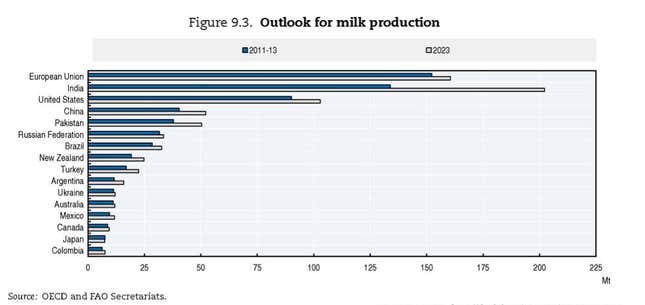 It's worth noting that the majority of Indian milk comes from buffaloes, not cows (the US is still the number one cow-milk-producing country in the world). According to the joint OECD-UN FAO Agricultural Outlook for 2014, most of India's milk is consumed fresh (as opposed to powdered or canned).