Despite some claims to the contrary, drive-in movie theaters in the United States are not making a comeback.
As of March, there were only 348 drive-in movie theaters in the US, down from 443 theaters in 2000. They account for only about 1.5% of all movie theaters in the country. In 1980, there were over 2400.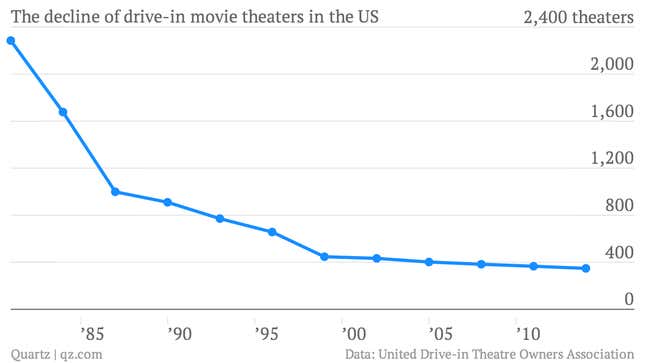 The decline has to do in part with Hollywood's digital revolution; the 35mm film prints that once dominated the film industry have been replaced in most commercial theaters by digital projection—something film director Christopher Nolan recently lamented in an op-ed for the Wall Street Journal (paywall). That puts drive-in theater owners in a tough spot, because converting a drive-in to digital is pricier: over $70,000 for drive-ins versus roughly half that for regular theaters. The cost is higher partly because it takes a much stronger bulb to project across a field to the screen. If drive-ins don't make the switch, they won't have any movies left to show.
Though New York has the most drive-ins (29), they're most prevalent in rural states like South Dakota where property values are relatively low and builders aren't vying for land to erect shopping malls. As a film industry hub, one would expect California to rank highly. But while the state ranks fifth in the US for the number of drive-ins (17), it has far fewer per capita, ranking 39th behind Nebraska and Georgia.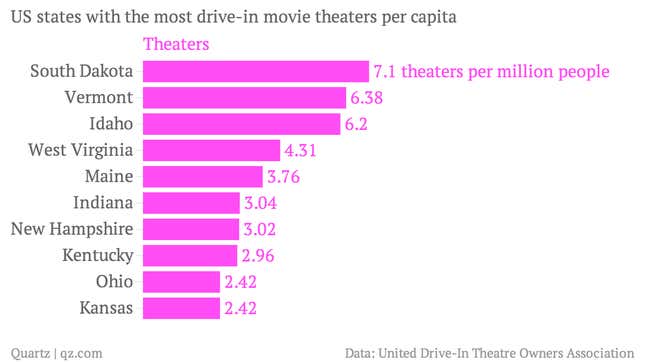 Some drive-ins that have made the switch to digital are surviving, such as the Delsea Drive-In Theatre in Vineland, New Jersey. Built in 1949, it's the state's last standing drive-in theater. (The Delsea is currently showing Dawn of the Planet of the Apes, among a few other mainstream Hollywood movies.)
Drive-in theaters have another problem that's facing all indoor theaters: declining attendance. One tactic that might help reverse that trend would be to play up the archaic filmgoing experience that's unique to drive-ins. After all, catering to nostalgia can go a long way.