Rupert Murdoch has made plenty of money in the sports business, and if he manages to get hold of Time Warner, he'll probably make even more.
There are all sorts of reasons why his film and TV outfit, 21st Century Fox, would want to acquire Time Warner: for instance, to take its valuable premium channel HBO, or to gain more bargaining power with cable and satellite companies who are in a merger frenzy of their own.
But another benefit in acquiring Time Warner would be the potential to create a sports channel to rival ESPN. Time Warner's most profitable businesses are actually its cable TV channels, and its most watched of those, TBS and TNT, derive a sizable chunk of their ratings from sports.
Murdoch and Fox launched a rival to ESPN, 24-hour cable sports channel Fox Sports 1, last year. It's still early days for the cable network, but it's not on par with ESPN yet in terms of financial might. The below chart from Nomura analyst Anthony DiClemente shows how ESPN reaps multiples of what Fox Sports 1 does in affiliate fees (these are the fees paid by cable companies to carry a content provider's channels).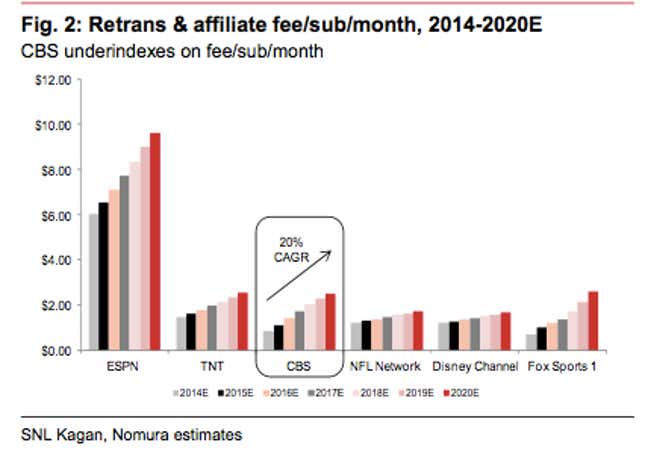 And, assuming there was no deal with Time Warner, it's expected to stay that way for years to come. But adding more sports rights to the Fox portfolio could change things significantly.
Time Warner's TBS Sports has some attractive properties. Although its rights to air regular season NBA games on a weekly basis on TNT, as well as a big chunk of the NBA playoffs, expire in 2016, the network, which is one of the basketball league's oldest broadcast partners, is already in discussions to renew them. It also has rights to broadcast the PGA Golf Championship until 2019, and TBS frequently airs Major League Baseball games.
Meanwhile, 21st Century Fox has weekly "NFL on Fox" American football games, certain Major League baseball games, the next two FIFA World Cups, Major League Soccer, the US Open golf, certain college football games and some NASCAR rights.
No doubt ESPN would be tough to challenge as the king of American sports cable. The Disney-controlled network still has the flagship Monday Night Football games, arguably the most valuable college football rights, some Major League Baseball games and tennis majors, among other rights. But a Time Warner-21st Century Fox mashup would pose a credible threat. "You start to put it all together and you create a significant competitor to ESPN for ratings and advertising dollars," Marc Ganis, a sports TV consultant told Reuters.
The US is unique in the sense that it is one of the few markets where Murdoch is present and not dominant in cable sports. In the UK and Australia, for example, he controls the main sports channels, and the pay TV companies that distribute them. ESPN has a small presence in Australia, and sold its UK sports television operations to telecom BT Group last year.