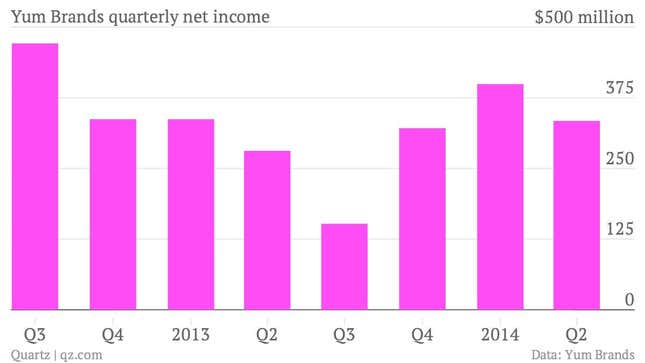 The numbers: Net income for the owner of the KFC and Taco Bell fast food chains rose 19% in the second quarter to $334 million, from $281 million a year earlier. The results for Yum Brands still fell slightly short of some analyst expectations. Shares fell 2.19% in after-hours trading.
The takeaway: Slowly but surely, Yum is overcoming fears about food security avian flu in China that sent KFC sales downward last year. Same-store sales in China, which accounts for about half of the company's total revenues, rose 15% in the second quarter, compared to a 9% increase last quarter. The fact that many KFCs were open 24 hours during the World Cup, as well as offering World Cup-themed burgers and deals has helped Yum so far this year.
What's interesting: Yum's recovery in China is partly because a dramatic makeover that are transforming KFC restaurants cafe-style restaurants with free wifi, soft lighting and wooden furniture. "[Yum] is recovering better than we expected in China due to its renovated menu and marketing campaign starting at the end of March," said Junheng Li of Warren Capital. Yum plans to open 700 new restaurants in China this year, in addition to the 6,300 it already operates there.
Going forward, Yum faces challenges like the fact that its Pizza Hut restaurants are seen as old and out-of-style. (Pizza Hut same-store sales fell 3%.) In China, a Taiwanese fried chicken chain called Dicos, which is now one of the country's top three largest fast food operators, is starting to pose a real threat.