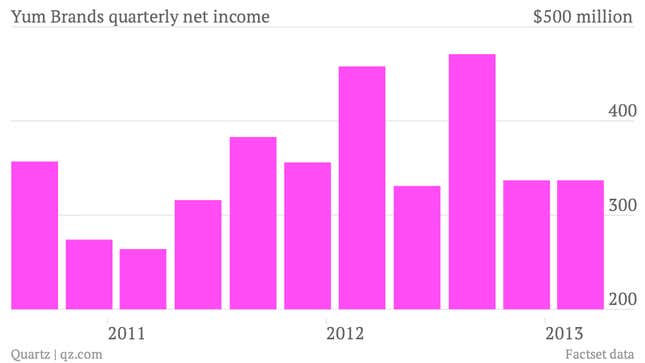 The numbers: US fast food chain owner Yum Brands reported first quarter profit of $337 million, a 27% drop from $458 million for the same period a year ago. Revenue for the quarter was $2.54 billion. The company beat analysts' profit expectations but missed estimates for sales.
The takeaway: Chinese consumers, who provide the Louisville-based owner of KFC, Taco Bell and Pizza Hut almost half of its profits, are shunning chicken out of fears of bird flu. China is in the middle of an outbreak of a rare form of avian flu whose death toll ticks higher almost every day.
What's interesting: Yum Brands can't seem to catch a break. Before bird flu hit, the company was just recovering from accusations it had been using Chinese suppliers who dope up their chickens, a scandal that had Chinese consumers boycotting KFC and publishing millions of negative posts online about Yum. KFC makes up the most of the company's roughly 5,700 restaurants in China.