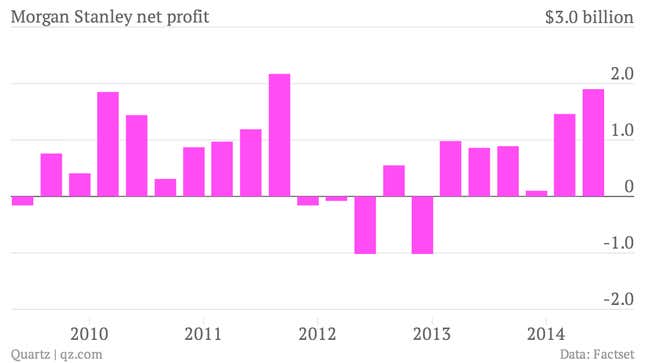 The numbers: Impressive. The smallest of the main US investment banks posted a second-quarter profit of $1.9 billion, almost double the same period last year, on revenue of $8.6 billion, up 1%. That was significantly better than what most analysts expected. As always with Morgan Stanley, there is a bit of messiness in the numbers, with esoteric accounting adjustments and tax adjustments clouding the results, but even so it's clear that the bank's core businesses are humming along nicely.
The takeaway: Australian-born CEO James Gorman's plan to diversify the investment bank's exposures continues to pay dividends, as its wealth-management unit comes into its own. Run by senior executive Greg Fleming, wealth management grew its pre-tax profit margin to 21%, up from 18.5% last year. However, the bank's overall trading results weren't as stellar as last quarter–second-quarter trading revenue fell 13% compared with last year–but that was no surprise given the general malaise the industry is experiencing as a whole.
What's interesting: The star of the quarter was Morgan Stanley's investment bank. The unit that advises clients on everything from mergers and acquisitions to initial public offerings saw sales grow a heady 25% versus last year, to $1.6 billion.