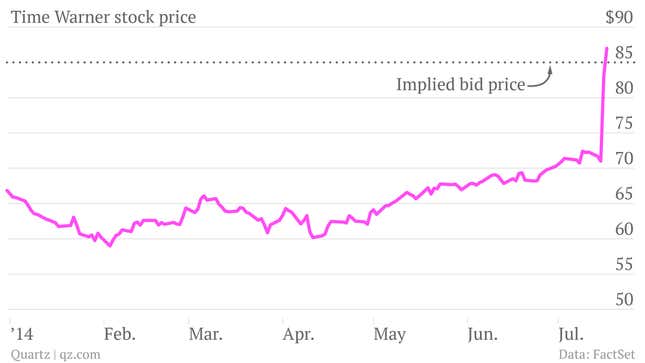 Time Warner shares have leapt above the $85 mark this morning—that being the amount Rupert Murdoch's 21st Century Fox offered, in a mixture of cash and stock, for the owner of HBO, CNN, TBS, and TNT last month.
The share price action suggests investors think 21st Century Fox is going to come back with a higher offer. Which makes sense: Widespread reports yesterday indicated that Murdoch is "determined" to make this deal happen. And the mogul has been rebuffed in plenty of transactions before (the most recent being Dow Jones) only to end up getting his way in the end. Either that, or a bidding war for Time Warner could break out.
The official line in yesterday's statement from Fox was that the company is "not currently in any discussions with Time Warner," but that might not be the case for much longer. The Murdoch-owned New York Post is already reporting that Fox is preparing a sweetened bid. What form this would take remains to be seen.
Time Warner's rationale for its rejection of Fox's opening offer included concerns about the "risk and uncertainty" of Fox stock. (Really long term shareholders in Time Warner got badly burnt when they accepted AOL stock in that dismal, tech boom era deal.) The shares Fox offered in the rejected bid are also non-voting ones. Fox has a dual-class share structure that enables the Murdoch family to control the company without actually owning a majority of it.
Reports also suggest that Time Warner is concerned about Fox's succession planning: Rupert Murdoch is now 83, his deputy Chase Carey's contract allows him to leave at the end of 2015,  and Murdoch's son James is unproven at the CEO level. It is not yet clear whether this is all part of a subtle PR campaign to tease out a higher offer, but we might not have to wait that long to find out.
Even if a sweetened bid doesn't work, Fox and Murdoch might have another trump card. Unique among big US media companies, Time Warner doesn't have a controlling mogul as its owner. Its shareholders are institutional asset managers, who are judged on their quarterly and annual performance. Many of them also own Fox stock. They might be easier to convince than Time Warner's top brass.