If you think it's hard to get your four-year-old into school in New York or New Delhi, try London.
Our daughter isn't yet four, but I've visited a dozen schools, filled out a half dozen applications, paid a half dozen application fees between £50-£100 a pop, and paid another £2,700 ($4,300) to secure her a spot at a school she may or may not attend.
I'm told we're lucky to have a place for her at all. We live near Wimbledon in what is considered a family-friendly area except when it comes to getting into schools. A baby boom over the past decade in Britain has seen births increase by a quarter. Schools are choc-a-block and a shortage of state funds has meant little expansion. Kids are supposedly guaranteed a place in a state school, though not necessarily one nearby or that's any good. Parents with means often opt for private schools (called "public" schools here), or at least sign up for them in case they don't get a state school they want.
We landed in London in 2009 when my daughter was a month shy of one. I thought I had plenty of time to worry about schools—we weren't in New York after all—and so I didn't think about it until she was nearly two. Big mistake.
After talking to other London mothers, I learned they put their kids on private school waiting lists as soon as they were born. One woman I learned signed her baby up while still in utero.
So my school-hunting madness began. In one morning, I called every school within a 30-minute drive to request a visit. Some schools shot me down saying hundreds of kids were already on their waiting lists. Others added me to their group tours a few months away, but said not to get my hopes up. About 10 schools said I could visit in the next few weeks—don't forget your application fee.
I would show up for tours in a smart suit and pearls, trying to win over English headmistresses, while also suggesting I could afford their schools. My wiggling toddler in tow, we'd walk around with other moms, their infants still in slings.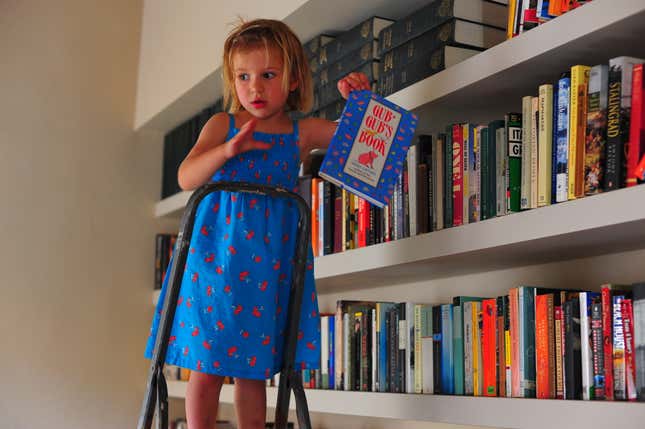 There's a remote possibility my daughter will get into a state school but chances are slim. Places are awarded on distance. Those who live closest go first. Not surprisingly, property prices by the the best state schools are astronomical.
Desperate for a free school place, parents often turn to God. The Church of England runs state-funded schools but the rules are strict: bi-monthly attendance at church services is required for two full years prior to application, as are at least two extra-curricular activities such as doing readings or helping with Sunday school. Not surprisingly, the churches, like the schools, are packed with under-fours, including my daughter. A friend recently joked that she would have to "up her game" at church to win the necessary recommendation from our vicar. Last week I saw her taking collections.
In all likelihood, we will send our kid to a private school. We have one child, can just about afford it, and where you go to kindergarten in England really can affect your entire future.
Unlike in America where there are dozens of top universities, in England there are two: Oxford and Cambridge. Where children go to primary school (elementary school) affects where they go to secondary school (high school) and ultimately determines whether they get into Oxford or Cambridge.
Initially, I considered all of this nonsense. Our daughter might just as easily attend an American university as one here anyway. And if a state education was good enough for me, it should be good enough for her. Then one day my husband called from work. "Remember how I said that everyone from work went to state schools? I meant to say no one."
The best universities are increasingly taking students from state schools and for some it's an explicit aim. In 2012, 58% of new entrants at Oxford came from state schools. At Cambridge it's 63%—a 30-year high. Bear in mind, though, that only 7% of UK students attend private schools, yet make up roughly 40% of these two schools' freshman classes.
And so in a period of three weeks, I raced from school to school, like a freshman at sorority rush, trying to make myself memorable and likable, while visiting schools that for the most part were neither.
London property comes at a premium, and even private schools that cost more than £12,000 year, have cramped classrooms, hallways that serve as libraries, playing fields a drive away, and in short, make my public elementary school in Florida look like Choate.
Of a dozen schools, only one had the country club look and feel I expected for my money. This one, where Mick Jagger sent his kids, costs about £15,000 a year, when you add in uniforms, violin lessons, and day trips to Switzerland. I'm not kidding about the trips. Our friends' daughter goes to this school. We had dinner at their house the night she returned from Geneva. "It's not like they flew business class," joked her father. I never heard back from that school.
In fact, more than a month after my frenzy of visits, and after paying hundreds of pounds in application fees, I'd heard from no one. Around that time, I was at a kid's birthday party. While our toddlers jumped up and down in a bouncy castle, a dad told me that one of the best girls' schools in the area, didn't operate on a first come, first serve basis, but literally drew names out of a hat. He said there were two more days before the application deadline.
Although I hadn't considered a single-sex school, I dropped everything, donned my suit, wrote my check, and raced over. My daughter's odds were low as hundreds of girls names were already in the hat. But I was desperate. A few weeks later, I learned that our daughter's name had miraculously been drawn.
So, we paid the £1,700 to secure her spot. The school gives you a month to pay up or lose the place. Even parents planning on state schools, pay the money. It's like an insurance policy for later when they discover their child didn't get into the state school they wanted. I've heard that nearly half of those parents who pay these deposits, ultimately send their kids elsewhere.
The school where we put a deposit is lovely. It has a beautifully manicured lawn, bright and neat classrooms, and perfectly-mannered schoolgirls who look like they ride horses on Wimbledon Common on weekends. My husband asked the headmistress if the not-inconsiderable tuition included a pony. She smiled and replied in all seriousness that one of the teachers often brought her horse to school.
We haven't decided whether to send our daughter there. In the meantime, I discovered one final option that doesn't operate on the time clock like the others. It's another girls' school, but closer to our home, more multi-cultural, and that offers the best education around according to annual rankings. It's called a "selective school," meaning four-year olds are tested to get in.
And so there we were on a recent Saturday morning with literally a thousand other parents in a huge auditorium on open house day to learn how we might secure one of those 42 spots for our precious angels. I had made my husband fill out the application—his penmanship is neater—brought a perfect photo (I took dozens until I got one of her looking cute and pensive), a glowing two-page review from my daughter's nursery school highlighting her ability to count to 10 and unusual determination to color inside the lines (nursery schools advertise their success at getting kids into the best kindergartens), and another check for £100.
In January, I will take my daughter back to be assessed. She will be four by then, and quizzed by strangers about her home life, and asked to make puzzles, count, and write her name. Ever since, my husband and I have been practicing counting with our daughter, reading her more books, and working on her letters. Had we known earlier about the whole name-writing thing, we would have called her Ann instead of Gwyneth.
In the end, I think she'll do fine. It's me I'm worried about. I've heard it's often a nervous and pushy parent, not the kid, who blows the interview. We're supposed to relax outside sipping lattes. Someone will stop by to chat about our child and see if we have any questions. I'll be so overwrought by that point, I'm bound to say something jokey and inappropriate. Or maybe I'll reveal my daughter's latest aspirations, uttered just last week: "I want to put on a pretty dress and be a princess and never go to school."