Every major automobile manufacturer is making some sort of connected car—vehicles embedded with internet connections to provide richer navigation, diagnostics, and entertainment options. But internet connections in cars—just like the ones in homes and on phones—can be costly. And carmakers have no idea how the economics will work.
Connected to everything but your wallet
Here's Henry Bzeih, head of connected cars at Kia Motors, quoted in a new report on connected cars from Telefonica, a multinational telecom and broadband operator:
Customers do not want to pay for these services, that's the bottom line. The business model in which connected services are built upon a business case to provide revenue and profit is a far-fetched proposition as far as I'm concerned.
Massimo Cavazzini, his counterpart at Fiat, is hardly more optimistic: "No one yet seems to have found the right business model to offer connected services to the consumer, which is why some OEMs [carmakers] have been in the market for years and are still trying to successfully monetize the product." And despite the apparent value of all of the data produced by connected cars, Ben Auslander of Volkswagen isn't convinced either:
The first thing that needs to happen is for auto makers to start realising what they can do with that data, what the value is, what they can do legally, and what the consumer is okay with too. At the moment no one has really figured out how to monetise and utilise data while at the same time allaying consumer privacy concerns.
Nor are customers any help. Telefonica asked people in its five major markets how they would prefer to pay for connected cars; the results were mixed: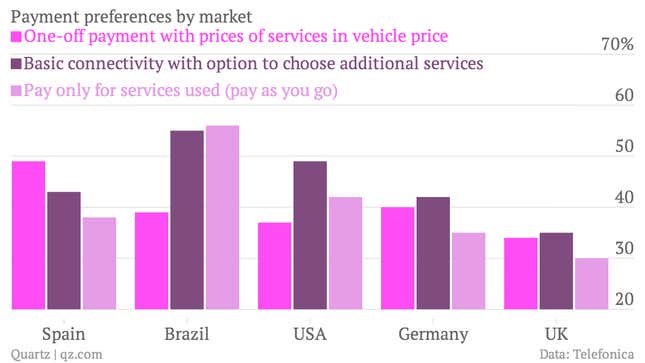 "The survey suggests that OEMs still have some way to go before they break out of their traditional role as a manufacturer and become a full, connected service provider," the report notes. There isn't much time to figure this out—Telefonica projects that the number of vehicles sold with in-built connectivity will rise from around 10% today to 90% by 2020.
Carmakers: your new best buddies
Before then, carmakers will need to rethink how they do business. Namely, they will need to get used to maintaining long-term relationships with customers rather than selling them a car and moving along. This will require building up after-sales teams to peddle apps and services, where the real money is.
Segmentation will get tougher too: Not everyone is going to want the same thing from their connected car. Pavan Mathew, who runs the connected car business for Telefonica, says that maybe one in four or one in five drivers will be attracted to the safety and security aspect of connected cars. "That number may not be significant enough to have a successful business model," he says. So what auto-makers will have to do is slice and dice the population several ways, offering one bunch safety features, another entertainment, and others some combination of the two (and more).
Yet Mathew remains optimistic. The data from connected cars will present new revenue streams for carmakers. They will know how far a customer is from the end of a car's lease, for example, and be able to offer discounts or relevant information for the next purchase. There could also be opportunities for advertising, Mathew suggests:
Lets say you have low fuel. Maybe a fuel station can send you an offer. If it's lunch or dinner time and you happen to be within a certain distance of a restaurant, maybe they can send you an offer.