Electronic Arts has been an absolutely terrific investment in 2014. It is the third-best performing stock in the S&P 500 this year, rising more than 65%.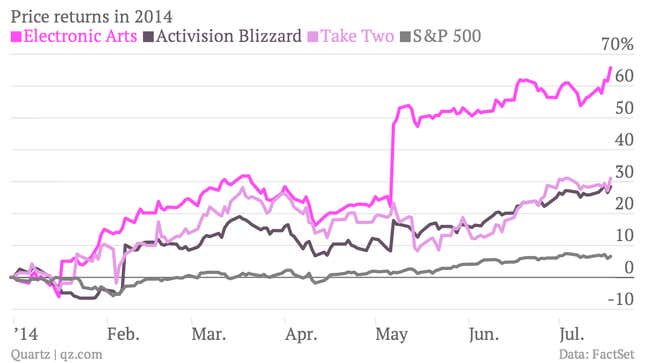 Part of this can be attributed to expectations for strong sales for its hit FIFA soccer franchise, which could benefit from the afterglow of arguably the best World Cup in history. The company also announced plans to buy back its own stock.
EA appointed a new CEO last September, Andrew Wilson who has restructured aspects of the company and reduced overlap between different development teams. "They finally showed discipline over expenses," Wedbush Securities analyst Michael Pachter says in an email.
The videogame industry has been undergoing a wave of digital transformation. (It's a bit like the music business, where CD sales are falling away, or print publishing, which is in structural decline.) Games are no longer being sold only in stores—they are being downloaded and increasingly being played on mobile devices.
A new, free-to-play pricing model is also taking hold. It means that instead of designing games for relatively niche audiences (the stereotypical nerd in the basement) that will pay for them upfront, games are now being developed for enormous, mass audiences, only a fraction of whom are likely to pay a small amount to unlock additional features and progress to further levels.
"It's a huge shift for how games are published and consumed," says Joost van Dreunen, CEO of SuperData Research, a market intelligence firm. "There is huge inventory, it's hit driven, games like Flappy Bird are here today, gone tomorrow. The timeframe for publishers to make back their money is much shorter than it has ever been before."
EA is one of the incumbents of the old videogame paradigm. It is far from the pioneer in the new digital model, but it has been making the transition to the new reality. Last quarter, 44% of its revenue came from digital downloads (of full games and upgrades) as opposed to physical game sales, and it expects this to rise to 50% this financial year.
The company has released various free-to-play, mobile options for hit franchises like FIFA (including a World-Cup-themed one), and successful free-to-play mobile-only games like The Simpsons: Tapped Out. Mobile revenue is now approaching $500 million annually, the company said last quarter. (Overall, the company generated $3.6 billion in revenue last year.)
In theory, the digital distribution model can be positive for all videogame publishers as it allows them to reach global audiences and glean more information about their users to tailor future development. And as ven Dreunen pointed out in a recent research post, it also helps videogame publishers cut costs—they no longer need to hold on to and distribute as much physical inventory, and by having digital alternatives, reduce the bargaining power of retail distributors.
Exposure to this dynamic has helped EA's stock price. (Shares were up another 3.6% on Friday after NPD Group published a research report estimating that June retail sales of physical videogames were higher than analysts expected.) But we'll get a clearer look at the company's health when it releases its quarterly results on Tuesday (July 22).