Over the last 12 month shares of Facebook have soared nearly 170%, making the social media behemoth the top-performing stock in the benchmark Standard & Poor's 500 index. (Coming in second was Micron Technology, which notched a more-than-respectable 141% gain over the last year.)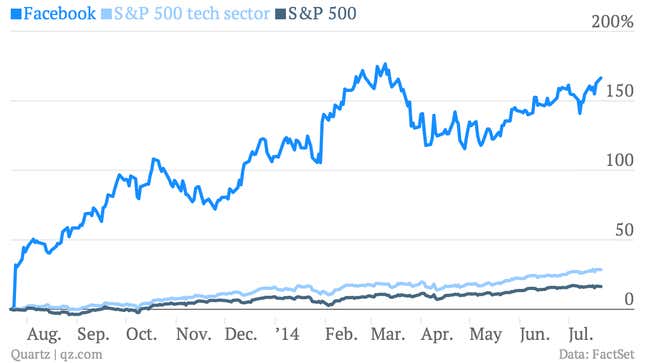 So what accounts for rise? As unlikely as it might seem in today's investing climate—where stocks are supposed to rise and fall only due to the whims of nefarious robot overlords—Facebook shares have jumped because of good, old-fashioned financial results.
It was Facebook's earnings report from the second-quarter of 2013, that really got Facebook shares moving. The report shifted the narrative about the stock away from its bungled IPO and toward the potential for Facebook to make money on mobile ad sales.
The company is due to report earnings for the second quarter of 2014 after the close of trading tomorrow. And the numbers are expected to be good again. The prices advertisers are willing to pay for spots on the service are rising, as are click-throughs on those advertisements, according to JPMorgan.
And that's all due to the seemingly inescapable, time-sucking force of the of the online platform, which has been bolstered by the addition of Instagram back in 2012 and more recently, WhatsApp. Including data for those two services, total usage, in minutes, of Facebook services was up 33% in June compared to June 2013, JPMorgan analysts reported in a recent note.