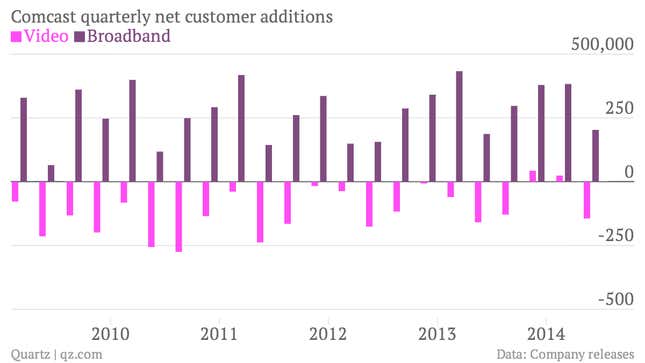 Comcast's aggressive tactics to hold onto its cable subscribers have been getting a lot of attention lately. America's biggest cable company is attempting to merge with the second biggest, Time Warner Cable, and people are worried that its already shoddy customer service could deteriorate further.
And now we know why Comcast is makes it so hard for people to quit cable. Today, the company confirmed that it lost 144,000 video customers in the June quarter—its worst quarter for "cord-cutting" in a year. Two straight previous quarters of video additions had led us to believe that maybe the company had figured out a solution to cord-cutting (namely its well-designed set top box, the X1). That may not be the case after all.
To be fair, there are seasonal factors at play (e.g., some Americans graduating from college in summer cancel subscriptions), and the company is spinning the result as its best second quarter for video subscribers in six years. Comcast also added 203,000 broadband customers during the quarter, its weakest quarter for internet customers additions since this time a year ago, so the same seasonal factors could be at play there.
Overall, Comcast posted a 3.5% increase in revenue to $16.5 billion, and a 15% rise in net income to $1.99 billion, which were stronger than most analysts had anticipated. Shares are up 1.8% in pre-market trading.