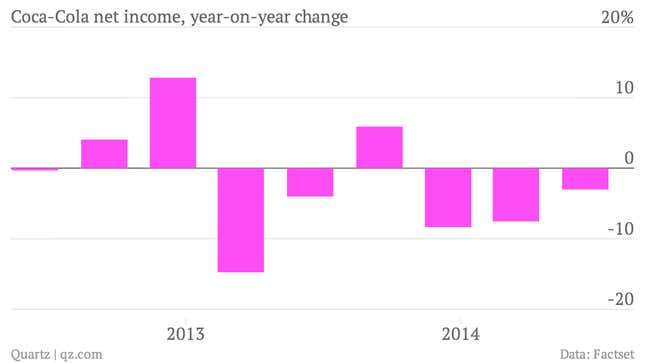 The numbers: Disappointing. The Coca-Cola Company reported second-quarter profits of $2.6 billion, down 3% from the same period last year. Revenues fell 1.4% to $12.6 billion, short of expectations. The stock slipped after results.
The takeaway: The soda business still looks relatively flat. In North America, carbonated drink sales remained level, though non-carbonated beverages rose by 1%. Diet Coke was especially soft, as a long-term downtrend for diet drinks continued. Coca-Cola's juice drinks didn't sell as well as usual, the company says, because of price hikes driven by higher commodity costs.
What's interesting: Sales volumes grew by 3% during the quarter, but at a price. Coke spent a lot on its marketing efforts for the FIFA World Cup—perhaps too much, since it blamed increased marketing costs for dampening sales gains elsewhere.