While Apple reported a mostly ho-hum quarter on July 22, the company's growth in China was an unexpected bonus. "China honestly was surprising to us," CEO Tim Cook said. "The unit growth was really off the charts across the board."
Revenue from Greater China, which includes Hong Kong and Taiwan, grew 28% to $5.94 billion, as buyers snapped up iPhones, iPads and computers at much faster rates than in the rest of the world. Chinese iPhone sales were up 48%, Mac sales were up 39%, and iPad sales (which were down 9.2% globally), were up an impressive 51%.
In market share, Apple still lags Samsung and other home-grown smartphone makers like Xiaomi, which has been aggressively marketing its devices as a cheaper answer to the iPhone. But the American company is catching up.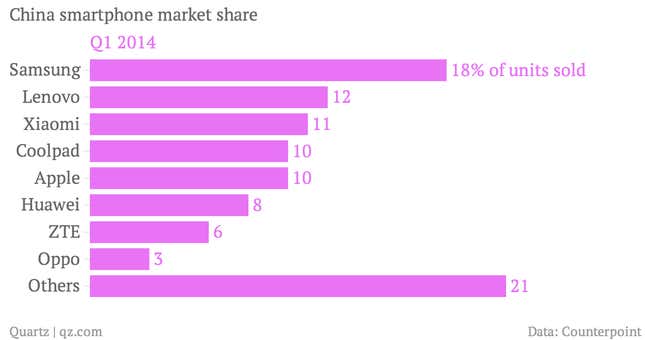 So what's making Apple so strong in China? A combination of factors seem to be boosting the company's prospects:
The China Mobile tie-up
When Apple finally inked a deal in January with China's largest mobile phone company by subscribers, there were some skeptics (including Quartz). While China Mobile's over 700 million subscribers were certainly attractive, Apple was relatively late to the game, and plenty of China Mobile customers already owned iPhones. Nevertheless, the strong results suggest that the deal is already helping Apple. Before the China Mobile deal was signed, but after the new iPhone 5s was launched, Apple's market share in China's smartphone market was just 7%—it's now at 10%.
The iPhone's high-end cachet
Yes, China is awash with cheaper homegrown smartphones, but affluent buyers still love iPhones. Of the country's 700 million smartphones at the end of 2013, more than a quarter were high-end phones that cost more than $500, according to a recent report from Umeng.com, which tracks apps and mobile use in China. Of those, 80% are iPhones, Umeng estimates. Many analysts criticized Apple for pricing the iPhone 5c too high, but that may have been the whole point—the high price tag is an asset for aspirational Chinese consumers.
Chinese smartphone owners are going legit
The percentage of "jailbroken" iOS devices—altered so they can use non-Apple-approved software—is falling in China, according to the Umeng report. The reasons could include a greater desire for security and Apple's increasingly attractive App Store (see below).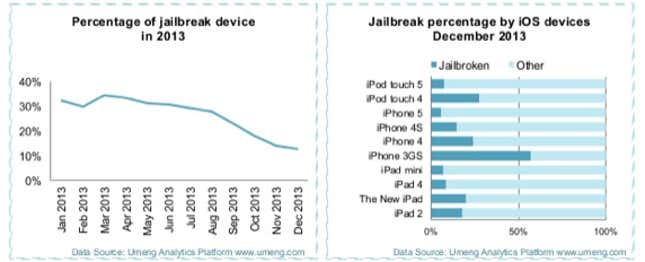 The shift means that Chinese users are increasingly buying music and apps from Apple, rather than pirated apps from third-party stores. Revenue at Apple's iOS App Store in China increased by 70% from the last quarter of 2013 to the first quarter of 2014, according to App Annie Intelligence. 
Cultivating Chinese developers
Due in part to its relatively low market share—and the fact that all of its major competitors run on Android—Apple's Chinese iOS App Store only had about 150,000 apps at the beginning of the year, compared to more than 1 million in the US. Because smartphone users spend most of their time using apps, that was a crucial downside for Chinese iPhone users. To reverse the trend, Apple has been encouraging Chinese developers to write apps for iOS, and is also adding China-specific features to the operating system.