Fixed-income traders should perhaps consider retraining themselves as lawyers. Why? Because these are boom times for compliance officers and risk management executives at large financial institutions. It's the one area of US finance in which a substantial bit of hiring is taking place, as banks grapple with the shifting regulatory landscape in the US under the Dodd-Frank financial reforms and tougher international banking codes.
Over the past few years, banks have hired in compliance while they cut jobs in areas that generate money directly to their bottom lines, such as trading.
That's the case with Deutsche Bank, which is hiring 1,600 regulatory employees, with as many as 500 focused on technology and compliance. This comes as the Wall Street Journal (paywall) reports that regulators as recently as December considered the German firm's compliance with the new US laws seriously lax. Here's what a US regulator at the Federal Reserve Bank of New York wrote in December, according to the Journal's report:
The shortcomings amount to a "systemic breakdown" and "expose the firm to significant operational risk and misstated regulatory reports," said the letter from Daniel Muccia, a New York Fed senior vice president responsible for supervising Deutsche Bank.
Other firms also are adding compliance and legal staff to their head counts by the end of this year. JPMorgan has hired thousands to address compliance issues, manage risk, and fight money laundering. Citigroup has said it will hire as many as 30,000 compliance employees, and HSBC also is hiring regulatory and compliance staff.
Regulatory costs have been escalating, and the hiring boom in the sector has driven up salaries for compliance officials, according to the recruiting firm Robert Half International: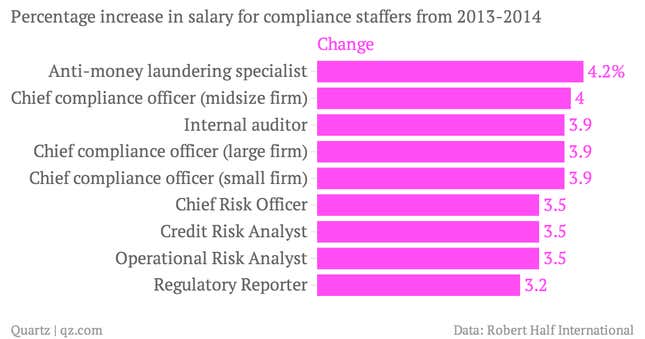 Banks may end up paying more for compliance staffers, as they cut back in other areas like trading—bad news for traders, unless they are considering law school.