Search represents the largest digital advertising market—almost $50 billion last year globally, according to PwC, compared to just $34 billion for display ads—and is growing roughly 10% a year. But Google so thoroughly dominates the search industry that few are even bothering to challenge it anymore.
Google on top
In the US, its largest market, Google handles about two-thirds of web search queries, according to comScore—some 12 billion last month. This has been the case for a few years, while second- and third-place search engines—Microsoft's Bing and Yahoo, both well behind Google—have merely switched ranks.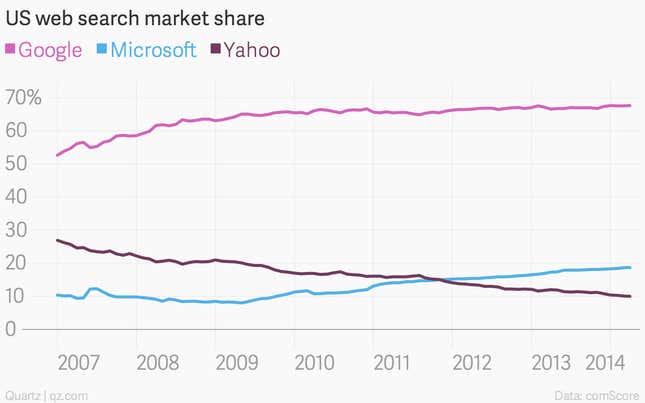 Google also dominates most other markets, says comScore's Andrew Lipsman, except in a few—albeit giant—countries that use non-roman alphabets. Baidu, for example, leads in China, while Yandex tops the Russian search market. Last year, Google generated $37 billion in revenue from "Google Websites"—a collection that also includes YouTube and Gmail, but is mostly Google search—representing 20% annual growth.
A giant market
Still, the market is large enough that even a small share of queries could become a meaningful business.
The search and applications group at IAC—including Ask.com, which commands 2% of the US search market—generated $1.6 billion in revenue and $368 million in operating income last year. AOL, with 1.3% US search market share, reported $389 million in global search revenue last year, about one-quarter of the company's overall sales. Microsoft said that its Bing search advertising revenue increased 40% during the last quarter from a year earlier. Search is also—unintentionally—Yahoo's bright spot.
Few competitors
So why aren't more companies going after Google's crown jewel? There have been a couple of high-profile web-search flameouts over the past several years, notably Cuil, run by the former founder of AltaVista—a web 1.0 search pioneer—and ex-Google employees. (Anna Patterson, Cuil's co-founder and former president, is now back at Google, where she is an engineering executive, according to her LinkedIn profile. She didn't immediately respond to requests for comment.)
But most recent search startups are starting with a specific niche. Product Hunt, a database of web and mobile products, lists 13 results for "search engine," but each includes qualifications. These range from PeopleGraph—"The search engine for (finding) tech people"—to Leap.it—"A visual search engine for the web." A few prominent tech investors polled by Quartz—the types who are exposed to promising startups in Silicon Valley—say that most search engines they've seen lately are either mobile-only or going after specific verticals.
One to watch
There is one notable independent search engine in the US that has found success and seems to be sticking around: DuckDuckGo, founded in 2008 by Gabriel Weinberg. DuckDuckGo is distinctive in that it doesn't track its users. Specifically, DuckDuckGo doesn't share its users' search queries with other sites, doesn't store their search histories, and doesn't store any of their computer or location information—things that many search engines do to boost their advertising efforts. This is a defining characteristic that has led to impressive traffic growth, especially since recent revelations about widespread government surveillance.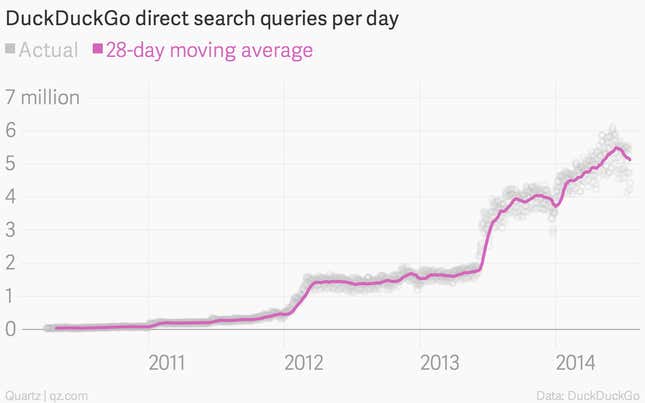 Last month, DuckDuckGo received about 159 million direct search queries, about double the number from a year ago. It also received 439 million queries last month through its API—an interface for developers. And its numbers should continue to grow: Apple's forthcoming updates to its iOS and Mac operating systems allow users to select DuckDuckGo as their default search engine. Weinberg declined to reveal DuckDuckGo's revenue, but notes, "it is a myth that search engines need to track you to make money on web search."
Google's multiple defenses
Still, even as the search advertising market grows, competing with Google is only going to get more difficult.
Weinberg outlines several challenges, ranging from cost—"startups cannot easily compete 'head-on' because it is too expensive to copy, index, and rank the entire web"—to simple product differentiation. "The hardest problem is crafting a user experience that mainstream people actually want to switch to," he says. "This is non-trivial since most people do not have a pain point with their current search experience. We believe our focus on real privacy and smarter answers does appeal to a significant percentage of the population, however."
Google has also created several advantages in distribution, which would be even harder for a small web-search startup to tackle. Most notably, it controls Android, the world's top mobile operating system, where the majority of search queries may someday originate. It has also built Chrome, which has grown to become one of the world's most popular web browsers. In both cases, Google is the default, built-in search engine. (Anyone is free, of course, to use whichever engine they'd like. But most will always choose the defaults.)
Google is also working on future forms of search, such as contextual and predictive services like Google Now, which is designed to tell you what you need to know before you think to ask for it. (Startups, too, could make inroads here—Apple's voice-powered search tool, Siri, was originally a startup that Apple purchased.)
But Google rarely finds itself behind. Facebook was once thought to be a potential challenger to Google's core business with some sort of "social search" tool. But Facebook has introduced its search tools rather slowly. Its "graph search" tool, available to some users, is an impressive way to search Facebook's user directory. But its web search tool, powered by Microsoft Bing, is still uninspiring.
How to beat Google
Will Google eventually be toppled? Anything is possible—the founders of AltaVista, HotBot, and WebCrawler probably all thought they were safe at one point, too. A government or two could someday seek to break Google's hold on web services as they once did to Microsoft's on operating systems.
But it seems a next-generation search challenger will need to feed on some sort of next-generation internet or form of communication. Virtual reality? In-app mobile content? Telepathy? Whatever it is, beating the Google machine will be a legendary feat.