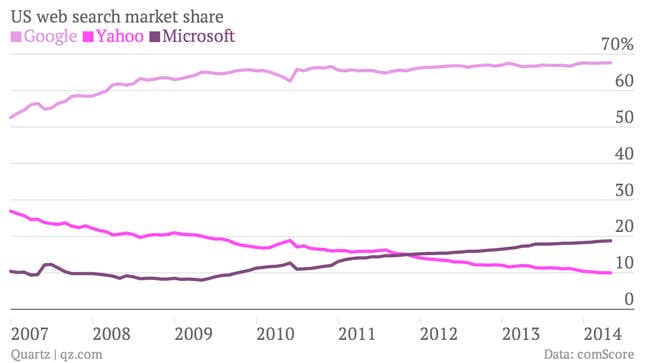 Yahoo CEO Marissa Mayer has outlined several growth areas for the company—which continues to tread water—including mobile, social, and video. But in the meantime, Yahoo's bright spot is a familiar one: Its search engine, which launched about 20 years ago but has been steadily losing market share.
As Yahoo's overall sales declined last quarter, and its display advertising business fell again, search revenue grew 6% year-over-year. Search—after traffic acquisition costs—has now grown on a year-over-year basis for each of the past 10 quarters. Meanwhile, display advertising—which used to beat search every time—has mostly declined. And search is likely generating more than its share of Yahoo's profits: While search represents about 40% of the company's revenue, Macquarie Research analyst Ben Schachter estimates that it accounts for more than 75% of Yahoo's core EBITDA.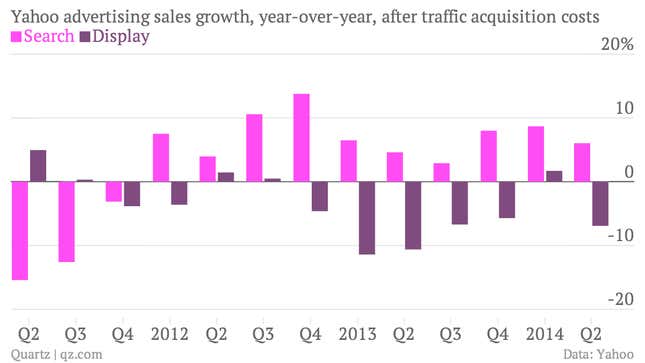 Still, it's hard to see Yahoo's search performance as sustainable. While a pioneer, Yahoo commands just 10% of the US desktop-search market, according to comScore. That's down from about 13% two years ago and almost 20% five years ago. Since partnering with Microsoft for search advertising in 2009—a deal that Mayer has tried to get out of—Microsoft has taken share from Yahoo, and claimed its second-place market position.
Despite recent improvements by Yahoo, Google is simply too far ahead, especially in mobile, where it also commands the largest smartphone operating system. "We still struggle to understand the reason for Yahoo search to exist in a world where browsers are the search bar and as voice activated search takes more share," Schachter wrote in a research note this week.
Yahoo declined our request to interview Mayer about Yahoo's future in search. But on the company's earnings call yesterday, Mayer said that mobile search revenue grew more than 100% year-over-year. (Yahoo does not disclose its mobile revenue, but says it is "meaningful.")
Mayer also touted Aviate, an Android homescreen replacement that is part of Yahoo's "efforts to accelerate mobile search." Aviate users interact with the service an average of 50 times per day, Mayer said, "making it a truly daily habit." Still, add-ons seem more a hack than a sustainable strategy, especially as Google, Apple, and even Microsoft invest in built-in search technologies across their platforms.