Turkish businesses have started removing Coca-Cola from shelves, more than a hundred Mumbai hotels are not selling any of its products, and Malaysian pro-Palestinian groups are calling for a boycott in response to the continued Israeli attacks on Gaza, which have killed more than 700 people.
The well-organized "Boycott Israel" movement has been around for many years, and generally ebbs and flows with the intensity of Israeli-Palestinian conflict, part of the larger "BDS" (for boycott, divestment & sanctions) campaign started in 2005. The huge civilian death toll in Gaza, which has been documented by quickly-circulated photographs, and the unrelenting nature of Israel's missile attacks could make this boycott particularly tough on Coca-Cola, judging from growing support from social media:
Coca-Cola hardly the only target of the Boycott Israel movement, but it is often most prominent one, as this Turkish graphic being circulated on Twitter shows: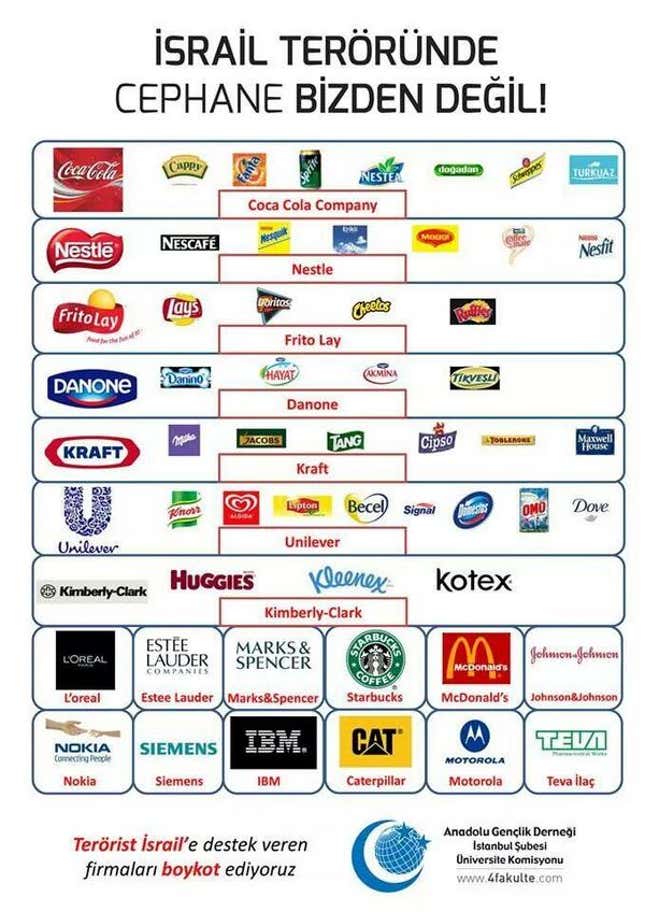 Remarkably enough, decades ago, the situation was reversed. Jewish-owned businesses (including Coney Island's Nathan's Famous hot dog stand) and pro-Israeli groups in the US called for the boycott of Coca-Cola in the 1960s because it did not have a plant in Israel, a campaign that ended when the company built a bottling plant in Tel Aviv. With the construction of the plant, Arab nations called for a boycott instead. That boycott wasn't lifted until 1993.
"From 1966 Coca-Cola has been a staunch supporter of Israel," claims Innovative Minds, an online website supporting Palestinians, and dozens of other boycott Israel sites, which have reprinted the Innovative Minds information explaining the claim. Reasons listed to boycott include Coca-Cola's co-hosting of a reception in Atlanta for Israeli Brigadier-General Binyamin Ben-Eliezer in 2009, ties with the American-Israel Chamber of Commerce in Atlanta, and because a subsidiary reportedly owns a dairy farm in occupied territory.
A Malaysian boycott of Coca-Cola products in 2009 was prompted by an earlier Israeli offensive in Gaza, and was mostly rooted in the fact that Coca-Cola was a big US company. In 2013, pro-Palestinian hackers targeted Coca-Cola's website.
With Coca-Cola's profits already weak thanks to flat sales in North America, any drop in sales in other markets are sure to hurt. And the markets calling for boycotts aren't unsubstantial—Coca-Cola's Turkish subsidiary, Coca-Cola Icecek, is the company's sixth-largest, in terms of volume, and it sells to ten other countries. It had sales of 4.1 billion Turkish lira ($2 billion) in 2012, or about 4% of Coca-Cola's global sales.