¡Felicidades España! For the first time in ages, Spain recorded a year-on-year gain in jobs. In fact, the 1.1% gain in employment in the year to June was the first rise in six years, according to data published today (pdf, in Spanish).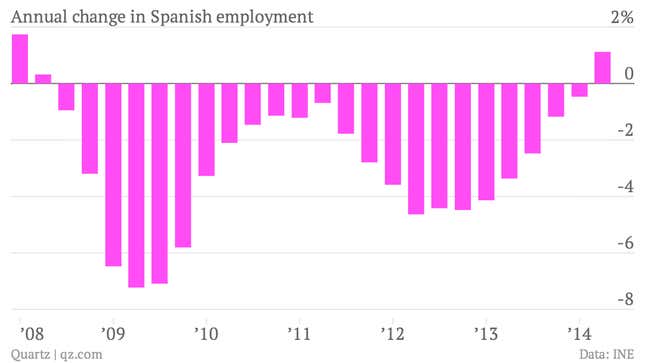 Coming a day after Spain's central bank upped its forecast for GDP growth, this is undoubtedly good news for the battered Spanish economy. But to put it in perspective, the recent job gain means Spain's eye-watering unemployment rate is now 24.5% instead of 25.9%.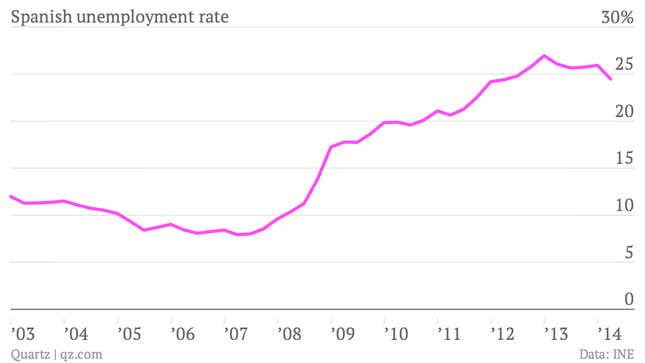 The latest gain of 402,400 jobs in the second quarter, versus the first, was the biggest short-term increase since 2005. Still, this added back only around 10% of the jobs Spain has lost since 2007. Even at this rapid rate of quarterly growth, it would take another two years for employment to reach its previous peak. (At the slower year-over-year rate of growth, it would be a much, much longer wait—until 2030.)
For those keeping score, that could mean a 10-year wait, at best, for the Spanish labor market to return where it was before the country's overheated property market crashed, dragging banks and the rest of the economy down with it. That's why the 5.6 million Spaniards who still don't have jobs probably aren't in the mood to celebrate the latest figures.