The numbers: Mixed, as always. Amazon sales grew in the double-digits for the 52nd quarter in a row. Revenue increased 23% year-over-year to $19.3 billion. Operating loss reached $15 million, down from a $79 million operating profit a year ago.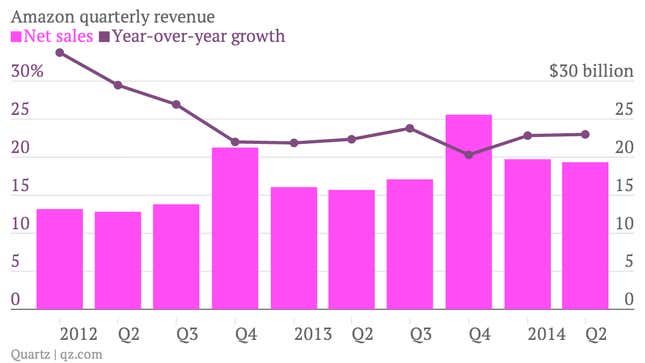 The takeaway: Customers are loving Amazon. Investors aren't. Operating loss for the third quarter is forecast between $410 million and $810 million, compared to $25 million a year ago, as Amazon invests in a wide range of products from its poorly reviewed Fire phone to its original web video efforts and cloud platforms. Shares fell 10% in after-hours trading.
What's interesting: Amazon Web Services, Amazon's cloud-computing business, is now mature enough to affect Amazon's overall numbers. Amazon made a big price cut in late March to counter aggressive pricing from Google, with service price declines up to 65%. Customers loved it, with usage increasing 90% year-over-year, Amazon said today on its earnings call. But revenue growth took a hit as a result.
Amazon doesn't break out AWS revenue specifically, but it's the largest part of Amazon's "North America – Other" segment, where growth fell to 38% year-over-year after consistent percentage growth rates in the 50s and 60s over the past two years.