A popular pro-democracy Hong Kong news site abruptly shut down this weekend, another sign of escalation as the city girds for a showdown between demonstrators demanding universal suffrage and Chinese authorities unwilling to cede more control over Hong Kong.
Visitors to House News, a site that had set out to be like the US's Huffington Post, were greeted with a notice of closure late Saturday afternoon. One of the site's founders, Tony Tsoi wrote in the message that political pressure was affecting his family as well as the site's business. The site produced and aggregated lifestyle, business, technology, and culture as well as political news.
"Hong Kong has changed. To act as a normal citizen, a normal media outlet and to do something right for society is becoming difficult, or even terrifying — not that you feel alienated, but fearful," he said, according to a translation. "My family feels the pressure and they are worried about me."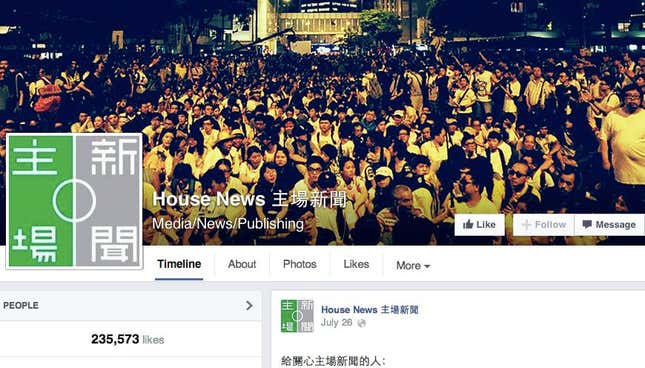 House News, started in 2012, has rallied behind previous demonstration movements, like one against mandatory patriotic education in Hong Kong schools, and Tsoi is an outspoken supporter of a group called Occupy Central that is pledging to bring Hong Kong's financial district to a standstill if Beijing doesn't allow the city to have elections that meet international standards. Beijing is expected to make its proposal to the Hong Kong government late next month.
Free speech in Hong Kong media, once among the region's least restricted, has become a rallying point among critics in Hong Kong angry at what they see as encroaching mainland influence. Tsoi said that even though House News had reached an average of 300,000 unique visitors a day last month, the site was shunned by potential advertisers for political reasons and would never have broken even. Apple Daily, a popular Hong Kong paper known to be critical of China, recently said HSBC and Standard Chartered had pulled advertising because of pressure from Beijing.
Activists described the closing of House News as a blow to the Occupy Central movement, because Tsoi represented one of the few businesses that backed the campaign. A slew of local and foreign businesses based in the city—from Neway, a karaoke chain, to the Hong Kong Chamber of Commerce—have come out against the Occupy demonstrators on the basis that the protests will only hurt the city's economy and cause chaos.