The global ruler in premium pay-TV will soon offer its services in the US without requiring a traditional cable TV package. HBO is set to expand its $49-per-month internet bundle—available now as a trial through Comcast—and offer it through other cable and broadband providers, Bloomberg reports. The package will include cable TV and online access to HBO, as well as a limited basic cable channel lineup.
HBO has been hesitant in the past to offer its premium content outside of cable bundles, fearing that doing so might cannibalize its lucrative business with major cable companies. But given that there are now 10 million US households with internet access but no pay TV, HBO sees an opportunity to expand into many more homes via the web. HBO Go, its current online offering, is available only as a part of cable package in the US.
HBO hopes that its internet bundle—which is far cheaper than the $128 average cable subscription—will entice the growing number of cord-cutters who forgo subscription-based cable entirely.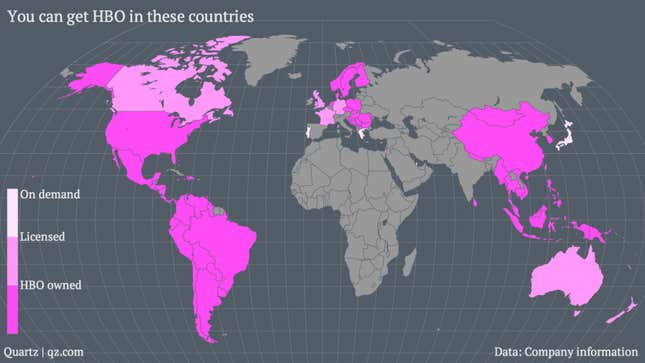 An internet bundle option could also help HBO tap into millions more homes outside the US, where cable TV penetration rates are much lower. HBO clearly still has a lot more room to grow.
For years, fans of the premium channel behind Game of Thrones, True Detective, and Girls have been clamoring for an internet-only subscription to HBO. The popular fan campaign "Take My Money HBO" asked the company to provide HBO Go as a standalone service. While this new cable bundle is not quite what many wanted, it does indicate that HBO is inching closer to an internet-based model.
And if HBO's play for cord-cutters is successful, Netflix's advantage in US subscriptions may not last for long.