Prices for rhodium, the precious metal used in the catalytic converters that curb harmful automotive emissions, are on a run. Bloomberg reports that they're at their highest in 16 months and are poised for their best monthly gain since 2009.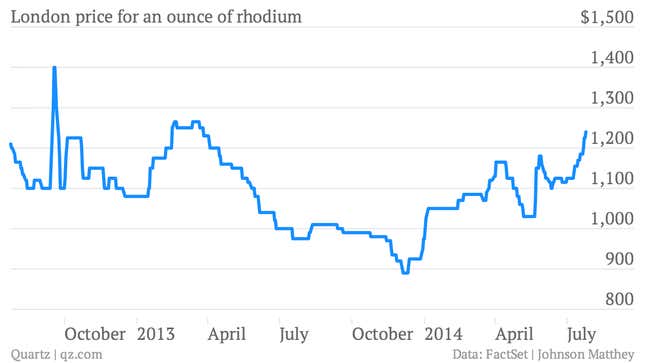 Is this as sign of a resurgence of the global auto demand? Maybe. Auto sales have been buoyant in the US. And Europe, which has been a drag in recent years, shows signs of a long-hoped-for bounce.
But prices are always a mix of supply and demand. And supply shortages have really been the story with rhodium and other platinum group metals. Roughly 80% of the world's rhodium comes from South Africa, where a five-month strike that ended in June has crippled production, Bloomberg reports.
With demand recovering and a scanty supply, prices for rhodium seem set for something of a recovery. But be careful not to make too much of it. Rhodium prices remain roughly 90% below their 2008 peak of more than $10,000 a troy ounce, set back in June of 2008.