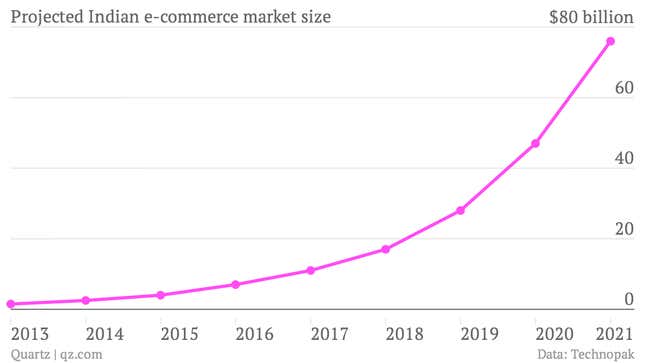 Flipkart, an Indian e-commerce company started by a pair of Amazon alumni, just confirmed that it raised $1 billion in funding. That's more than the $780 million the company raised in the first seven years of its existence, and values the firm at between $6 billion and $7 billion, reports Mint, an Indian business newspaper.
The new round was led by existing investors Tiger Global Management and Naspers, along with Accel Partners, Iconiq Capital and DST Global among other VC firms.
The company will use the money to "expand its logistics network, build more warehouses, spend on marketing and discounts, and acquire companies," Mint reported.
The Indian government is expected to soon allow foreign investors to put their money directly into Indian e-commerce companies, so in addition to acquisitions and investment, Flipkart's giant round will likely fuel its defenses against an assault from Amazon, eBay and others. For now, Amazon India is only a marketplace that facilitates sales for smaller dealers.
Quartz explained last week why putting $1 billion in an Indian e-commerce firm isn't utterly bonkers. The market is currently worth somewhere between $1.5 billion and $4 billion. But as smartphone use takes off (paywall) that is expected to increase dramatically:
Accel in April made a strong case for Indian e-commerce growth in the coming years, forecasting that Indian online shoppers will double to 40 million and their spending with quadruple to $8.5 billion by 2016. CLSA forecasts that it will expand to $22 billion in five years.Technopak, like Bahl, sees the market size expanding to nearly $50 billion by 2020.
Read more here.