Media companies like Netflix have been forced to choose between competing for quality content and developing cutting-edge technology. In the case of Netflix, it chose not to create its own video streaming device and instead focused on original content; Microsoft could succeed in the battle for your living room by doing just the opposite.
Microsoft is committing to hardware to succeed where its content failed. The thinking is if you can't make good original content, make more screens to view other content on. Case in point: This month it closed its bedeviled video content division—Xbox Entertainment Studios—amid massive layoffs and company restructuring. CEO Satya Nadella has said repeatedly that the company is shifting to a predominantly mobile and cloud-based business, but that doesn't mean the company can't compete with the likes of Apple and Google on living room media hardware. The Xbox, which is used primarily for gaming, could be used for a lot more.
Nadella was lukewarm on the Xbox in his Q2 2014 earnings call, though he did say that Microsoft plans to bolster its gaming efforts on the console to boost sluggish sales.  The question is whether it will invest more into making the device a general entertainment hub.
There are signs the company is moving in this direction. The Xbox One already has a good reputation for streaming video; it can link up with Verizon FiOS and Comcast Xfinity (which Roku boxes cannot) and features a multitude of television channel apps. It also has a very lucrative partnership with the NFL to host built-in versions of NFL.com, NFL Network and an NFL Fantasy app. And in June, Xbox announced that it was increasing its app catalog by 25%, with HBO Go and Showtime Anytime among the additions.
Despite competing with cheaper set-top boxes like Roku or Apple TV (the Xbox's higher price tag reflects that it's also a gaming console), Microsoft seems to think there are plenty of media consumers who are willing to pay for the option to do both.
Other improvements to the entertainment side of the company include expanding its mobile business, which itself could help the company enter more living rooms—that is, if you consider any glass device that can play video to be the living room of the future (as we do). The company is launching two new phones, one of them an affordable smartphone to replace the Nokia Lumia 720.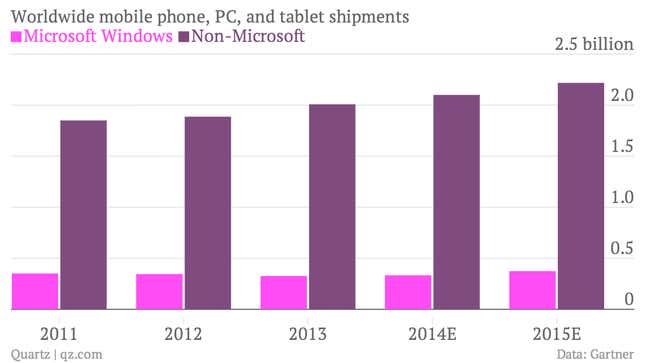 Windows's phone and tablet sales are dwarfed by Apple and Google, but Microsoft is setting itself up to be a stronger competitor with its plans to unify its operating system across phones, tablets, PCs and the Xbox. Not only will that create a more seamless experience for users with more than one Microsoft device, but it should make developing apps across each platform much easier. Developers may be more inclined to create new things on Microsoft devices and, similarly, customers may be more inclined to use them.
Even as Microsoft shrinks and abandons original programming, it still has a chance to win the living room. Its dreams of becoming an entertainment company don't have to die with Xbox Entertainment Studios.