As Stockholm plans a 25.7 billion kronor ($4 billion) expansion of its subway system to deal with an expected half million new residents by 2030, the city is asking citizens to help with the design. Last month the city launched an online contest to crowdsource the color of the new metro line being added to its Tunnelbanan system.
On the site (which appears to be open to anyone with an e-mail address), you can hover your mouse over a changing field of color until you've found the one you like best. To enter it, you also have to justify your choice. Perhaps a rich red as a conceptual tribute to the Swedish film icon Ingmar Bergman's Wild Strawberries?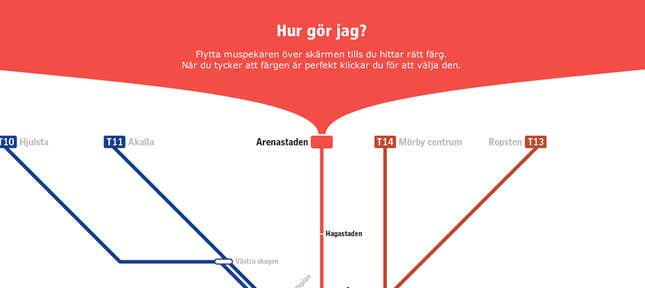 When submissions close on August 11, judges will pick three finalists, which will then be put to a popular vote. According to the Local, 3,400 colors have been entered so far, and the most popular are yellow, brown, purple, turquoise, and pink. The winning color with the best rationale earns its submitter a free one-year metro pass.
The current subway diagram is a familiar-looking tangle of red, blue, and green spaghetti; when the extension is completed in 2025, the green line will become blue, the blue line will turn a lighter shade, and the new line will be added in whatever color Stockholmers decide on. But if the masses choose something truly awful, there's an escape valve, according to the fine print of the contest rules: "The color scale may need to be adjusted to adapt to the other colors on the SL map."