The numbers: Like nearly every other cable company, Time Warner Cable is losing TV customers—but this quarter a little more slowly. It lost 152,000 video customers, its smallest second-quarter loss since 2011, when it lost 130,000. It added 67,000 broadband internet customers, its most in a Q2 since 2010 (but a lot less than the 269,000 it gained last quarter.) Revenue was up 3.2% from a year ago, earnings per share rose 11.8%, and the average monthly revenue per user—essentially, its customers' average monthly cable bill—rose 1.7%.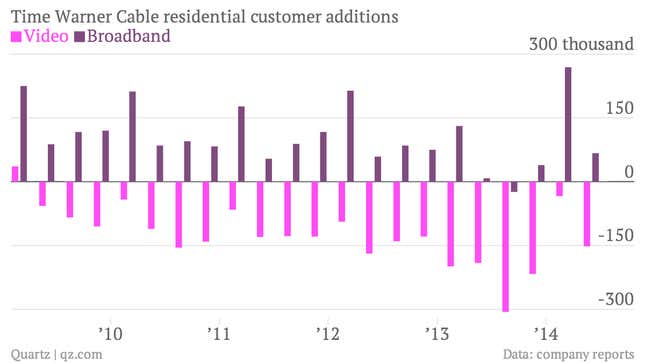 The takeaway: This could very well be the last Q2 earning report that TWC gives. If Comcast's $45 billion acquisition is approved by regulators, all of TWC's customers will be part of Comcast's vast empire. But the fact that TWC CEO Rob Marcus called this "another very good quarter" when the company lost so many of its video subscribers shows just how tenuous the state of the cable industry is. Cable companies throughout the US continue to bleed video customers at alarming rates, due to the rise of cord-cutters. Comcast had two quarters of net video growth—perhaps attributed to good reviews of its X1 cable box—but started losing video customers again this quarter.
What's interesting: TWC is spinning this earning report as a huge victory, but its revenue and earnings per share were still shy of Wall Street projections. But executives likely aren't too worried, since they expect the company to be bought. They're probably more concerned with the public-relations crisis surrounding ongoing fee disputes that are blacking out Los Angeles Dodgers games for many of their fans. And TWC can't ignore its public perception: Unpopular as American cable providers are in general, customers loathe TWC even more now that it's merging with Comcast. If the merger is finalized, it will be interesting to see if the new Comcast-TWC cable colossus can figure out a way to both improve its public image and stop the hemorrhaging of its video customers. Our bet is that it's likely to do neither.