Diageo, the world's largest liquor company by sales, is smarting from a huge hit to its bottom line courtesy of a dreadful year in emerging markets. The maker of Smirnoff vodka and Guinness stout reported a 9% decrease in net sales, from £11.3 billion to £10.3 billion ($17.4 billion), and an 8.3% drop in profit overall for the year ending June 30, 2014.
In China, where Diageo acquired baijiu maker Shuijingfang in July 2013, sales fell by 33%. At the time of that acquisition, Diageo had been investing in Shuijingfang for years, and though baijiu sales were plunging in China, Diageo wanted to market the clear Chinese spirit—described as "disgusting firewater" by some—to Westerners. Since then, sales of Shuijingfang have declined by 78%, and Diageo is recording an impairment on the brand with a writedown of £79 million ($133 million) (paywall).
Johnnie Walker Black Label Scotch is the company's second most-suffering spirit in China, with sales down 28% for the year. Both scotch and baijiu used to be popular gifts exchanged in dealmaking, but they're now casualties of the Chinese government's anti-corruption campaign, which is affecting the country's entire luxury economy.
Offering further explanation for the disappointing results, Diageo CFO Deirdre Mahlan said that the entry of higher-end baijiu brands to the market put pricing pressure on Shuijingfang, and CEO Ivan Menezes emphasized the adverse effects of weaker currencies across emerging markets.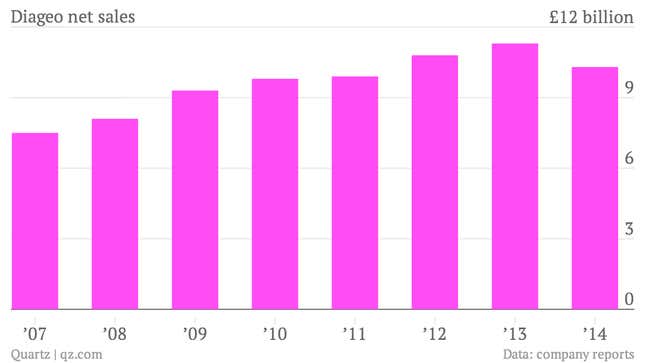 To make matters worse, Smirnoff vodka seems to have fallen out of favor in North America, where Diageo's total sales for the region were down 7% this year. Smirnoff accounts for about one-fourth of Diageo's sales by volume there, but it had a hard time with competition in a flooded market. More than 200 new vodkas were introduced to the world this year, Mahlan said.
On the company's earnings call this morning, Menezes acknowledged that Smirnoff, along with Captain Morgan rum and Crown Royal whiskey, was of particular concern, and heading into 2015, there will be a focus on revitalizing those three brands. On the bright side, said Menezes, Diageo's scotch sales are up by 14% in North America, where, in the US at least, consumers are gravitating toward high-end liquors.