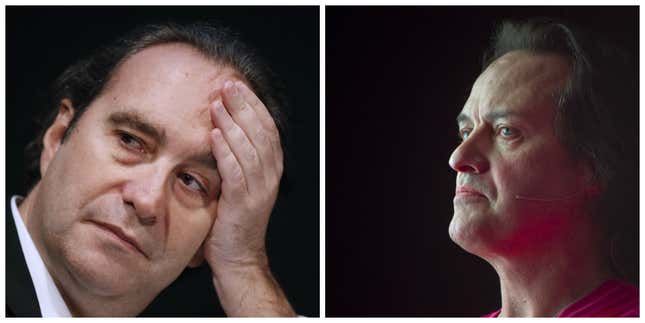 This post has been updated.
The Wall Street Journal is out with a big scoop this afternoon, reporting that the French telecommunications firm Illiad made an offer for the wireless carrier T-Mobile US "less than a week ago."
T-Mobile, of course is also being sized up by SoftBank, the Japanese owners of its rival carrier, Sprint. Although details of that widely rumored deal are already out there, things have gone deafeningly quiet in recent weeks. Regulators have also signaled they are opposed to any transaction that would reduce competition in America's wireless industry. Which could, if the Journal's report is to be believed, offer Illiad a way in.
Illiad was founded by French entrepreneur Xavier Niel, who the Financial Times (paywall) once described as the "Steve Jobs" of France. The FT noted that former French President Nicolas Sarkozy referred to Niel as "the peep-show man" because the entrepreneur had built some of his fortune on sex chat sites on the Minitel, France's early internet-like service, as well as sex shops.
More recently, Niel has become a co-owner of the French newspaper Le Monde. But more importantly, Illiad has been driving a price war in the French wireless industry that's not terribly dissimilar to what T-Mobile and its unorthodox CEO John Legere have been doing in the US.
In theory, this could make for a great partnership.
Update at 12:51 pm: Illiad has confirmed the Journal's report in a statement on its website, saying it has offered $15 billion in cash for 56.6% of T-Mobile US, at $33 per share (and that remaining shareholders could also benefit from cost savings). According to reports last month, Sprint/Softbank were prepared to pay about $40 a share for the entire company.