If there is one thing equity markets excel at, it's sniffing out government stimulus.
And across Asia a recent stock market surge suggests investors think governments there are ready make a pronounced push to keep growth going. Shares in China, Hong Kong, Japan and Korea have all logged major gains over the past few months.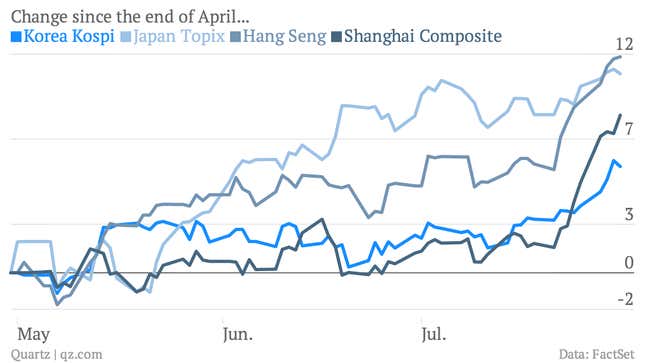 In China, equity markets reflect rising expectations that the government will keep doing what it needs to prop up growth. Likewise, South Korea's government is hoping to push its economy into a higher gear, after a somewhat soft reading for second-quarter GDP. In Japan, a run of bad numbers—including a sharp drop in industrial production—have been shrugged off by the stock market. Investors seem to be focusing the positive earnings results from exporters amid Prime Minister Shinzo Abe's ongoing  efforts—known as Abenomics—to reinvigorate growth.
The takeaway? A semi-coordinated stimulus push out of Asia, particularly China, could provide a welcome boost for the global economy, which is already benefitting from steadily improving US labor market and the fact that Europe's economy, while still growing quite slowly, is no longer contracting outright.