While some would argue it never really left, Wall Street's swagger is back, at least when it comes to the lucrative business of corporate matchmaking.
High-profile deals like Facebook's $19 billion proposed purchase of messaging company WhatsApp and Dollar Tree's $8.5 billion bid for rival discount chain Family Dollar have helped put mergers and acquisitions on their best pace in years. Some of the newfound M&A activity has been spurred by corporate executives itching to put capital to work and by a new class of so-called tax-inversion deals (paywall) meant to allow companies in one country to benefit from lower taxes in another.
So far in 2014, there have been roughly $2.3 trillion in announced M&A transactions. That's 44% higher than in the same period last year, when $1.6 trillion in deals were in the works. (Activity still lags the 2007 high of $3.1 trillion in deals proposed through the beginning of August.)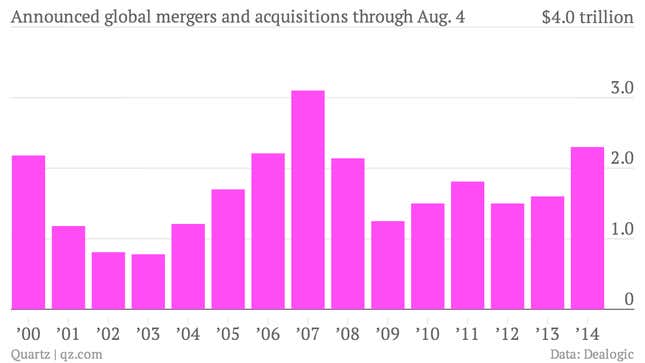 Perhaps all the activity, not just to date but also in terms of what's expected to come, is why M&A bankers are becoming a hot commodity at banks like Goldman Sachs. Goldman reportedly has hired Paul Parker, formerly a rainmaker at UK investment bank Barclays, to serve as co-chairman of Goldman's M&A group. The firm has been working to bolster its M&A business, as its trading arm has turned out to be less of the roaring profit engine it once was. Goldman CEO Lloyd Blankfein has said fostering growth in M&A can spark business in other areas, like debt and equity financing as well as trading.
It's not just Goldman counting on M&A to replace revenue that's been drying up in other areas. Citigroup, JPMorgan Chase, Morgan Stanley and other firms have high hopes for continued strength in M&A. But as is so often the case, there are warning signs on the horizon. For starters, announced M&A volume is much headier than deals that actually have been completed this year. The $1.6 trillion in M&A transactions finalized so far this year is little changed from recent years, and even slightly below last year's pace through early August.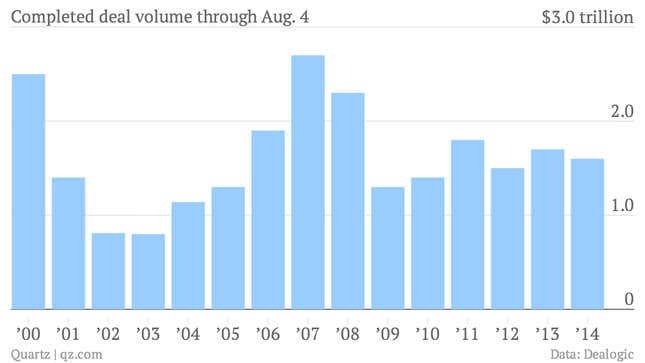 M&A also is sensitive to global economic gyrations and geopolitical tumult—and certainly there has been plenty of both going around that could potentially reverse M&A's momentum in a hurry.