Demand for shark fin soup—a goopy broth that can easily cost over $100 a bowl and is believed by some to have medicinal properties—is falling in the world's largest market, according to a new report by the animal advocacy group WildAid. Merchants in the southern Chinese province of Guangzhou, restaurants in Beijing, and traders in Indonesia, one of Asia's largest shark fin exporters, say sales have fallen as much as 82%.
After years of campaigning by animal rights groups, shark fin soup is finally starting to go out of style among China's youth, encouraged by celebrities like Yao Ming and David Beckham, or simply turned off by reports of restaurants' rampant use of fake, sometimes toxic, shark fins. A government crackdown on the soup, which is now banned at official banquets in mainland China and Hong Kong, has also helped.
Fifteen merchants in Guangzhou, mainland China's main trading center for the fins, told WildAid in December that business has been shrinking over the past year, pushing retail prices for high-end fins from 4,000 yuan/kg ($642/kg) to around 2,000 yuan/kg. Prices for low-end fins have fallen as much as 72%, from 1,200 yuan to just 340 yuan. "My focus has shifted to other products because shark fin is a dying business,"one wholesale trader in Guangzhou told the group.
In Indonesia, one of the few countries where finning is legal, 94 fishermen and sharkfin traders told researchers that average wholesale prices had fallen almost 20% since 2003, a peak in the local shark fishing activity and fin prices.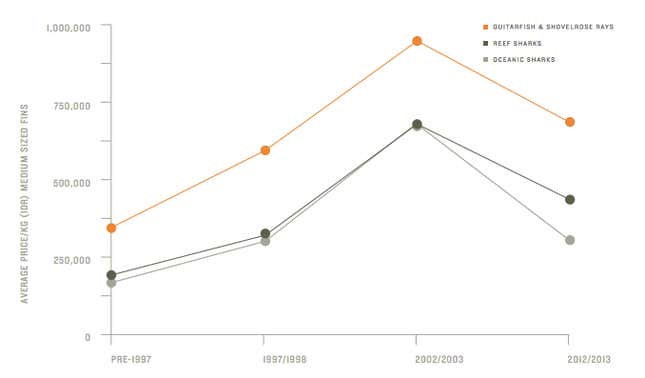 Moreover, imports to Hong Kong—the world's largest processing center for the fins, which typically sells them on to mainland restaurants and stores—have fallen by almost half to 5.39 million kg, or 5390 tonnes (5941 tons) from 10.292 million kg in 2011. Fin exports from Hong Kong to mainland China have declined as much as 90%. Today, a dwindling number of stalls in Hong Kong districts like Sheung Wan and Sai Ying Pun, long known for selling the fins, depend on other dried seafood like sea cucumbers and salted fish. Nineteen of 20 restaurants in Beijing interviewed by WildAid said that sales of shark fin soup declined.
Still, much of the damage has already been done, and the recent tapering in global exports of shark fin products may have come too late. Populations of the 14 the shark species whose fins are most used in the Chinese dish have declined between 40% and 99% and are classified as threatened or near-threatened species, according to WildAid.